Frederiksberg Park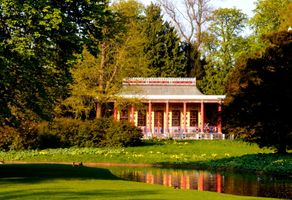 park in Frederiksberg Municipality, Denmark
Geographical coordinates: 55.6743 12.5253
Wikipedia
English

Frederiksberg Gardens
Frederiksberg Gardens (Danish: Frederiksberg Have) is one of the largest and most attractive greenspaces in Copenhagen, Denmark. Together with the adjacent Søndermarken it forms a green area of 64 hectares at the western edge of Inner Copenhagen. It is a romantic landscape garden designed in the English style.
Source: Frederiksberg Gardens
French

Frederiksberg Have
Le Frederiksberg Have est un jardin public dans la ville de Copenhague au Danemark. Il possède une superficie de 31,7 hectares. Il est adjacent à un autre jardin public le Søndermarken d'une superficie de 32,3 hectares. Il y est également adjacent au zoo de Copenhague et au palais Frederiksberg.
Portail de Copenhague Portail des espaces verts
Source: Frederiksberg Have
zh

腓特烈堡花園
腓特烈堡花園(丹麥語:København Have)是位於丹麥哥本哈根的一座大型綠地,也是哥本哈根規模最大的綠地之一。腓特烈堡花園和與其相鄰的 Søndermarken 兩者面積總計達64公頃。腓特烈堡花園是一座英式花園。腓特烈堡花園始建於1690年代。
Source: 腓特烈堡花園
da

Frederiksberg Have
de

Frederiksberg Have
fo

Frederiksberg Have
fr

Frederiksberg Have
is

Frederiksberg Have
kl

Frederiksberg Have
nb

Frederiksberg Have
nl

Frederiksberg Have
nn

Frederiksberg Have
sv

Frederiksberg Have
zh

腓特烈堡公園
ceb

Frederiksberg Have