Linnaean Garden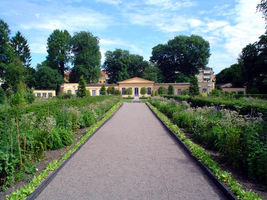 botanical garden in Sweden
Geographical coordinates: 59.862222222 17.633888888
Wikipedia
Wikivoyage
English

The Linnaean Garden and the Linnaeus Museum (Linnéträdgården och Linnémuseet)

This building was the home of the Linnaeus family from 1743 until his sons death in 1783. It is today restored to its 18th century appearance, and used as a personal museum of the Linnaeus family. The adjoined garden was planted in 1655, but heavily expanded during Linnaeus' years as its keeper. Eventually it became one of the best kept gardens of its kind, and a major tourist attraction during Linnaeus' own time. Like the house, the garden is also restored to its 18th century look.

Address

Svartbäcksgatan 27

Price

80 kr which includes the museum (with audio guide) and the garden. Free entry to the garden after 17:00. Guided tours are included in the entry fee and are held in English at 14:30 every open day. The ticket can also be used at Linnaeus' Hammarby
English

Linnéträdgården & Linnémuseet (The Linnaean Garden and the Linnaeus Museum)

The botanical garden was first planted by Olof Rudbeck in 1655, making it the oldest in Sweden. After a period of decline, it was restored and maintained by Carl von Linné and became a major attraction during Linnaeus' own lifetime. In the garden orangery, you can find exhibitions about Linnaeus' successors and disciples. The building in the southern corner of the garden served as the residence of the Linnaeus family between 1743 and 1778. Today, it is a personal museum dedicated to Linnaeus' professional and personal life. Is part of the proposed Linnaean UNESCO World Heritage.

Address

Svartbäcksgatan 27

Price

80 kr which includes the museum (with audio guide) and the garden. Free entry to the garden after 17:00. Guided tours are included in the entry fee and are held in English at 11:30 and 14:30 every open day. The ticket can also be used at Linnaeus' Hammarby
Russian

Сад Линнея

Первый университетский ботанический сад — сравнительно небольшой, зато очень старый. Он появился в 1655 году по инициативе Улофа Рудбека (1630-1702) — шведского естествоиспытателя, учившегося в Голландии и позаимствовавшего оттуда несколько модных штучек, включая анатомический театр под куполом Густавианума. Сейчас сад назван именем знаменитого Карла Линнея (1707-1778), в 1740-е гг. обустроившего территорию на свой манер. После появления нынешнего ботанического сада старый сад забросили, в 1802 году он был закрыт, но в 1923 году восстановлен по чертежам автора. К саду примыкает музей Линнея, разместившийся в том самом доме, где 35 лет жил великий учёный. Дом построен в конце XVII века как профессорский и является, кроме прочего, одним из старейших городских зданий. Бо́льшая часть помещений музея отдана под собранную Линнеем биологическую коллекцию — в основном чучела, заспиртованные экспонаты и гербарий — но и пояснения там в достаточном количестве есть; из них вполне можно понять, кто такой Карл Линней и чем он в Уппсале занимался.
Places located in Linnaean Garden
The Linnaeus Museum (Swedish:Linnémuseet) is a biographical museum in the Linnaean Garden in Uppsala, Sweden, dedicated to the 18th century botanist Carl Linnaeus. It is run by the Swedish Linnaeus Society. The house was built by Olaus Rudbeck in 1693 and served as official residence for employees at Uppsala University from the latter part of the 17th century until 1934. Its last occupant was musician Hugo Alfvén. Between 1743 and 1778, Carl Linnaeus resided in the building, and in 1937 it was re-made into a museum of Linnaeus personal and professional life. Furniture, household items and textiles, which belonged to the family, are exhibited together with Linnaeus personal medicinal cabinet, insect cabinet and herbarium.Carl Linnaeus was born in Småland in 1707 but started studying at Uppsala University in 1730, and he later became professor of botany and principal at the same university. He is known for formalising the modern system of naming organisms, creating the modern binomial nomenclature.
bn

লিনিয়াসের বাগান
da

Linnéhaven
de

Linné-Garten
eo

Linea Ĝardeno
es

Jardín botánico de Linneo en Uppsala
eu

Lineoren lorategia
fi

Linnéträdgården
fr

Jardin botanique de Linné à Uppsala
it

Giardino di Linneo
ja

リンネ庭園
lt

Linėjaus sodas
nb

Linnéträdgården
nl

Linnéträdgården
nn

Linnéträdgården
pt

Jardim Botânico de Lineu
ru

Сад Линнея
sv

Linnéträdgården
ta

லின்னேயஸ் தோட்டம்
uk

Сад Ліннея
zh

林奈植物園