Alexander Nevsky Lavra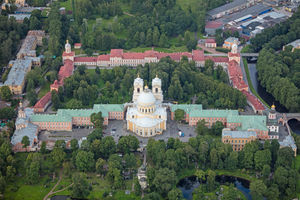 monastery
Tourist attraction
Cultural heritage site in Russia
Geographical coordinates: 59.921084 30.388518
Wikipedia
Wikivoyage
Russian

Александро-Невская лавра

Address

площадь Александра Невского, 1
Places located in Alexander Nevsky Lavra
The Holy Trinity Cathedral of the Alexander Nevsky Lavra (Russian: Свято-Троицкий собор Александро-Невской лавры) is a Russian Orthodox cathedral in Saint Petersburg. It is in the Diocese of Saint Petersburg and part of the Alexander Nevsky Lavra, where it is the cathedral church of the monastery complex.
The cathedral is the centre-piece of the ensemble of buildings that comprises the monastery complex. Work began on the cathedral in 1719, but as it was nearing completion severe cracks were discovered in the structure that threatened its stability, and the work was ordered to be demolished in 1744. A competition design early in the reign of Empress Catherine the Great failed to produce a suitable alternative, and it was not until 1774 that a design by Ivan Starov was selected. Construction began in 1778 and the cathedral was finally completed and consecrated in 1790. On the day of the consecration the relics of St Alexander Nevsky were ceremonially transferred to the cathedral in a grand ceremony.
The cathedral remained largely unchanged for much of its existence, its importance highlighted by the rich and valuable furnishings that were donated by the Imperial family. It continued to operate after the Russian Revolution, though it suffered the loss of most of its historic artefacts during the general confiscation of Russian Orthodox Church property after 1922. After a period where it was run by the Renovationist movement, the cathedral was finally closed in 1933 and used as office space and as a warehouse. The cathedral was returned to the Orthodox Church in 1955 and was re-consecrated in 1957. The relics of St Alexander Nevsky were returned to the cathedral in 1989, and the cathedral has resumed its role as the principal church of the monastery.
Kazachye Cemetery (Russian: Казачье кладбище), formerly known as Communist Square (Russian: Коммунисти́ческая площа́дка) and also known as the Internal Cemetery of the Alexander Nevsky Lavra (Russian: Вну́треннее кла́дбище Алекса́ндро-Не́вской ла́вры) is a historic cemetery in the centre of Saint Petersburg. It is part of the Alexander Nevsky Lavra, and is one of four cemeteries in the complex.
Established during the Russian Revolution in 1917 as a burial ground for Cossacks killed during the July Days, it was soon used for the interment of several prominent communist activists, and was the site of mass graves of those who had died to defend communism in the Russian Civil War. In light of this, it became known as "Communist Square". The graves of several high profile military leaders and scientists were located here during the 1920s and 1930s, with further burials taking place during the siege of Leningrad. More interments took place in the postwar years, but the number eventually declined during the last years of the twentieth century, until the cemetery was closed. An estimated 700 people were buried here during the years of its operation, and in 2009 its original name, "Kazachye", was restored.
be

Аляксандра-Неўская лаўра
bg

Александро-Невска лавра
ca

monestir d'Alexandre Nevski
cs

Alexandro-Něvská lávra
da

Aleksandr Nevskij-klosteret
de

Alexander-Newski-Kloster
eo

Monaĥejo Aleksandro Nevski
es

Monasterio de Alejandro Nevski
fa

اکساندر نوسکی لاورا
fi

Aleksanteri Nevskin luostari
fr

monastère Saint-Alexandre-Nevski
fy

Aleksander Nevski-kleaster
gl

Mosteiro de Alexandre Nevski
he

מנזר אלכסנדר נבסקי
hu

Alekszandro-Nyevszkaja Lavra
hy

Ալեքսանդր Նևսկու մայրավանք
it

Monastero di Aleksandr Nevskij
ja

アレクサンドル・ネフスキー大修道院
ka

ალექსანდრე ნეველის ლავრა
ky

Александр Невский лаврасы
la

Laura Alexandri Nevensis Petropolitana
nb

Aleksandr Nevskij-klosteret
nl

Alexander Nevski-klooster
nn

Aleksandr Nevskij-klosteret
pl

Ławra Aleksandra Newskiego w Sankt-Petersburgu
pt

Monastério Alexandre Nevsky
ru

Александро-Невская лавра
sk

Lavra Alexandra Nevského
sv

Alexander Nevskij-klostret
tr

Aleksandr Nevski Manastırı
tt

Александр Невский кәшишханәсе
uk

Олександро-Невська лавра
zh

亚历山大·涅夫斯基修道院
be-tarask

Аляксандра-Неўская лаўра