Paris-Gare de Lyon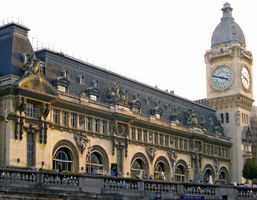 train station in Paris, France
Geographical coordinates: 48.844722222 2.373611111
Wikipedia
Wikivoyage
Italian

Gare de Lyon

Forse la più conosciuta stazione ferroviaria di Parigi. Prende il suo nome dalla città di Lione, la principale destinazione dei treni a medio-lungo raggio in partenza da questa stazione.
Places located in Paris-Gare de Lyon
Le Train Bleu ("The Blue Train") is a restaurant located in the hall of the Gare de Lyon railway station in Paris, France. It was designated a Monument Historique in 1972.
The restaurant was originally created for the Exposition Universelle (1900). Each ornate dining room is themed to represent cities and regions of France and they are decorated with 41 paintings by some of the most popular artists of that time.
Initially called "Buffet de la Gare de Lyon", it was renamed "Le Train Bleu" in 1963, after the famous train of the same name.
| | |
| --- | --- |
| Inception | 1847 |
| Named after | |
| Part of | |
| Architect | |
| Street | |
| Adjacent stations | |
| Connecting line | |
| UIC station code | 876860087686038775858 |
ar

باريس محطة ليون
be

Ліёнскі вакзал
bn

গার দ্য লিওঁ
ca

Estació de París-Lió
co

stazione di Parighji Lione
cs

Gare de Lyon
da

Gare de Lyon
de

Paris Gare de Lyon
el

Γκαρ ντε Λυών
eo

Stacidomo Parizo-Liono
es

Estación de París-Lyon
eu

Paris-Lyon geltokia
fa

ایستگاه لیون
fi

Gare de Lyon
fr

gare de Paris-Lyon
gl

Estación de París-Lyon
he

תחנת ליון
hu

Paris Gare de Lyon
hy

Լիոնյան կայարան
id

Gare de Lyon
it

stazione di Parigi Lione
ja

リヨン駅
jv

Gare de Lyon
nb

Gare de Lyon
nl

Paris gare de Lyon
pl

Gare de Lyon
pt

Gare de Lyon
ro

Gare de Lyon
ru

Лионский вокзал
sv

Paris Lyon järnvägsstation
tr

Lyon Garı
uk

Ліонський вокзал
zh

巴黎里昂車站
gsw

Paris Gare de Lyon
zh-cn

巴黎-里昂火车站
zh-hk

巴黎里昂車站
zh-tw

巴黎里昂車站
zh-hans

巴黎-里昂火车站
zh-hant

巴黎里昂車站