Königsberg Cathedral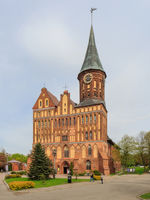 cathedral
Cathedral
Tourist attraction
Cultural heritage site in Russia
Geographical coordinates: 54.706388888 20.511666666
Wikipedia
Wikivoyage
English

The old cathedral of Königsberg

Founded in 1333, largely reconstructed after World War II, the cathedral on Kneiphof Island along the Pregolya River is a sight to see. The cathedral links Kaliningrad to its German past, as it is where the Prussian kings were once crowned. There are two rooms in the Cathedral Museum devoted to the life of Kant, whose tomb lies beside the cathedral walls. Up the stairs to the left of the main door is a three-storey museum dedicated to the life and work of Immanuel Kant (separate ticket needed). Kant's grave can be viewed outside the cathedral, on the northeast corner of the building.
Russian

Кафедральный собор

Выстроен в стиле готики. Точная дата начала строительства неизвестна, первое упоминание о строительстве собора относится к 1333 году. Фундамент собора опирается на большое количество свай. Башни были построены в 1553 году. До 1519 года собор был католическим храмом, потом стал лютеранским. Собор сгорел во время Второй мировой войны и более сорока лет простоял в руинах. Реставрация собора началась в 1992 году. Собор восстановлен в роли многофункционального культурного центра: в башнях расположены музей, зал камерной музыки и две часовни, главное помещение собора используется как зал для классической и религиозной музыки. К собору пристроено надгробие Иммануила Канта, построенное в 1924 году по проекту архитектора Ларса на месте старого склепа.
ar

كاتدرائية كونيغسبرغ
az

Köniqsberq kafedralı
be

Кёнігсбергскі сабор
bg

Кьонигсбергска катедрала
ca

Catedral de Königsberg
cs

Královecká katedrála
da

Königsbergs Domkirke
de

Königsberger Dom
el

Καθεδρικός ναός της Καινιξβέργης
eo

Katedralo de Königsberg
es

catedral de Königsberg
fr

cathédrale de Königsberg
gd

Cathair-eaglais Königsberg
gu

કોનિસબર્ગ કેથેડ્રલ
he

קתדרלת קניגסברג
id

Katedral Königsberg
it

cattedrale di Königsberg
ja

ケーニヒスベルク大聖堂
ka

კალინინგრადის საკათედრო ტაძარი
lt

Karaliaučiaus katedra
nb

Königsberger Dom
nl

Dom van Koningsbergen
pl

Katedra św. Wojciecha i Najświętszej Marii Panny w Królewcu
pt

Catedral de Königsberg
ro

catedrala din Königsberg
ru

Кёнигсбергский собор
sk

Kráľovecká katedrála
sv

Königsbergs Domkyrka
th

มหาวิหารเคอนิกสแบร์ก
zh

柯尼斯堡大教堂
arz

كاتدرائيه كونيجسبرج
pnb

کونگزبرگ گرجا
Image source:
• Wikimedia Commons FAL by

A.Savin (Wikimedia Commons · WikiPhotoSpace)