Süleymaniye Mosque
Süleymaniye Camii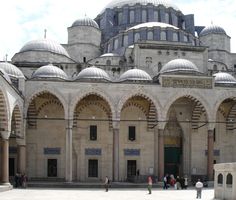 Mosque and religious complex in Istanbul, Turkey
Geographical coordinates: 41.016111111 28.963888888
Wikipedia
Wikivoyage
English

Süleymaniye Mosque (Süleymaniye Camii)

On the top of a hill overlooking Golden Horn is a work of Mimar Sinan, an Ottoman architect of the 16th century. The mosque is a fine example of Ottoman architecture of the era, and inspired the architects of the Blue Mosque (Sultanahmet) which was built later. Comparing these two mosques, Süleymaniye is noted for its gloomier and more atmospheric feeling. Next to the courtyard of the mosque are tombs of Sinan, Sultan Suleiman the Magnificent, and his Ukrainian spouse, Roxelana (known as Hürrem Sultan in Turkish). Free admission to the mosque building and tombs in the courtyard. Considering the resemblance of Fatih and Süleymaniye, it is very like that Atik Sinan and Mimar Sinan knew each other or where even related, father and son.
Russian

Мечеть Сулеймание
Italian

Süleymaniye Camii (Moschea di Solimano)

Address

Prof. Sıddık Sami Onar Caddesi 1-21
Places located in Süleymaniye Mosque
The Kara Mustafa Paşa Mosque or Paşa Mosque (Turkish: Paşa Cami) is an historic mosque which situated in county central of Merzifon. It is the one of greatest mosque of the county which is still using as mosque.
af

Süleymaniye-moskee
ar

مسجد سليمان القانوني
av

Сулаймание
az

Süleymaniyyə camisi
ba

Сөләймәниә мәсете
be

Сулейманіе
bg

Сюлейман джамия
bn

সুলায়মানি মসজিদ
bs

Sulejmanija džamija
ca

mesquita de Solimà
cs

Sulejmanova mešita
da

Süleymaniye-moskéen
de

Süleymaniye-Moschee
el

Τέμενος Σουλεϊμανιγιέ
eo

Moskeo de Sulejmano
es

Mezquita de Süleymaniye
eu

Süleymaniye meskita
fa

مسجد سلیمانیه
fi

Suleimanin moskeija
fr

mosquée Süleymaniye
he

מסגד סולימאנייה
hr

Sulejmanija
hu

Szulejmán-mecset
hy

Սուլեյմանիե մզկիթ
id

Masjid Raya Sulaimaniah
it

moschea di Solimano
ja

スレイマニエ・モスク
kk

Сулеймание мешіті
ko

쉴레이마니예 모스크
lt

Suleimanijos mečetė
mk

Сулејманова џамија
ms

Masjid Süleymaniye
nl

Süleymaniye-moskee
pl

Meczet Sulejmana
pt

Mesquita Süleymaniye
ro

Moscheea lui Suleiman
ru

Сулеймание
rw

Umusigiti wa Süleymaniye
sh

Sulejmanije džamija
sl

Sulejmanija
sq

Xhamia e Sylejmanit
sr

Сулејманова џамија
sv

Süleymaniyemoskén
th

มัสยิดซิวเลย์มานีเย
tl

Masjid Süleymaniye
tr

Süleymaniye Camii
ug

سۇلايمانىيە جامىى
uk

Сулейманіє Джамі
ur

جامع سلیمانیہ
uz

Sulaymoniya masjidi
vi

Nhà thờ Hồi giáo Süleymaniye
zh

苏莱曼尼耶清真寺
ckb

مزگەوتی سولەیمانیە
gsw

Süleymaniye-Moschee
hyw

Սիւլեյմանիէ մզկիթ
mrj

Сӱлеймание мечеть
pnb

سلیمانیہ مسیت
tyv

Сулеймание
udm

Сулеймание мечеть
kk-cn

سۋلەيمانىييە مەشىتى
kk-kz

Сулеймание мешіті
kk-tr

Swleýmanïye meşiti
sr-ec

Сулејманова џамија
sr-el

Sulejmanova džamija
zh-cn

苏莱曼尼耶清真寺
zh-hk

蘇萊曼尼耶清真寺
zh-sg

苏莱曼尼耶清真寺
zh-tw

蘇萊曼尼耶清真寺
kk-arab

سۋلەيمانىييە مەشىتى
kk-cyrl

Сулеймание мешіті
kk-latn

Swleýmanïye meşiti
zh-hans

苏莱曼尼耶清真寺
zh-hant

蘇萊曼尼耶清真寺