Royal Palace of Madrid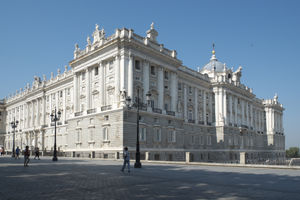 official residence of the Spanish Royal Family
Geographical coordinates: 40.418333 -3.714167
Wikipedia
Wikivoyage
English

Palacio Real

Official residence of the King of Spain. The King does not live here, however, and it is primarily used for state ceremonies. Open to the public when not in use for official functions.
Italian

Palacio Real de Madrid

Oggi la famiglia reale risiede nel ben più modesto Palacio de la Zarzuela e il Palacio Real viene usato solo durante le cerimonie importanti. Diverse sale del palazzo sono aperte al pubblico. Nel cortile del palazzo si icontrano la Real Armeria con una collezione di armature cerimoniali esposte in due sale e la Real Farmacia, una delle più antiche d'Europa. Il primo mercoledì di ogni mese alle ore 12, nel cortile del palazzo viene effettuato il Cambio della Guardia.

Price

Ingresso: intero 10 €, ridotto 6 €, mercoledì gratuito per i cittadini dell'UE (solo con un documento d'identità)

Hours

Ottobre-marzo: Lun-Sab 9:30-17:00, Dom e festivi 9:00-14:00. Aprile-settembre: Lun-Sab 9:00-18:00, Dom e festivi 9:00-15:00. Chiusure: 1/1, 7/1, 1/5, 15/5, 9/9, 24/12, 25/12 e 31/12
Places located in Royal Palace of Madrid
The Royal Armoury of Madrid or Real Armería de Madrid, between many other things, the collection contains the personal arms of the Kings of Spain, and also houses military weapons, armours and diplomatic works of art like mixed tapestries, paintings and other works of art and trophies. Among the most notable parts of the collection features armor and full tools that Charles V, Holy Roman Emperor and Philip II used. It is considered, along with the Imperial Armory of Vienna, one of the best in the world., and even it is often described as "the best collection of its kind in the world".The decision to grant preferential treatment to the Armory dates back at least to the death of Charles V, Holy Roman Emperor, which occurred on 21 September 1558. At the end of 1559 had already been made known to the testamentaries of the Emperor the decision of the new King of take to him the Armory.
ar

قصر مدريد الملكي
bg

Кралски дворец в Мадрид
ca

Palau Reial de Madrid
cs

Královský palác v Madridu
da

Palacio Real
de

Palacio Real
el

Βασιλικό Παλάτι της Μαδρίτης
eo

Reĝa Palaco de Madrido
es

Palacio Real de Madrid
et

Madridi kuninglik palee
eu

Madrilgo Errege Jauregia
fa

کاخ سلطنتی مادرید
fi

Palacio Real de Madrid
fr

palais royal de Madrid
gl

Palacio Real de Madrid
he

הארמון המלכותי של מדריד
hi

मद्रिद का महल
hy

Մադրիդի թագավորական պալատ
id

Istana Kerajaan Madrid
it

Palazzo reale di Madrid
ja

王宮
ko

마드리드 왕궁
la

Palatium Regale Matriti
mr

माद्रिदचा राजवाडा
nb

Palacio Real
nl

Koninklijk Paleis van Madrid
pa

ਮਾਦਰੀਦ ਦਾ ਸ਼ਾਹੀ ਮਹਲ
pl

Pałac Królewski w Madrycie
pt

Palácio Real de Madrid
ro

Palacio Real
ru

Королевский дворец в Мадриде
sl

Kraljeva palača
sv

Palacio Real de Madrid
ta

மாட்ரிட்டின் அரண்மனை
tr

Madrid Kraliyet Sarayı
uk

Королівський палац у Мадриді
zh

马德里王宫
ast

Palaciu Real de Madrid
sco

Ryal Pailace o Madrid
wuu

马德里王宫
yue

馬德里王宮
zh-cn

马德里王宫
zh-hk

馬德里王宮
zh-sg

马德里王宫
zh-tw

馬德里王宮
zh-hans

马德里王宫
zh-hant

馬德里王宮
be-tarask

Каралеўскі палац