Berlin Zoological Garden
Zoologischer Garten Berlin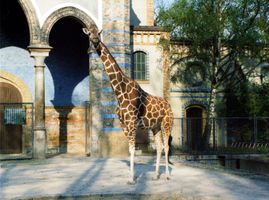 zoo in Germany
Geographical coordinates: 52.508333333 13.3375
Wikipedia
Wikivoyage
English

Zoological Garden (Zoologischer Garten)

The largest zoo in the world, both in terms of number of species (1500) and animal population (14,000). It is especially famous for its pandas. The Elephant Gate (Budapester Straße), one of the two entrances and next to the Aquarium, is a traditional photo stop for most visitors because of the architecture.

Address

Hardenbergplatz 8 or Budapester Str.

Price

€13, Zoo & Aquarium €20, students €10/€15, children 5-15 years €6.50/€10, family ticket: €35/€50, annual tickets available
French

Jardin zoologique (Zoologischer Garten Berlin)

ayant un plus grand nombre d'animaux et d'espèces.
Places located in Berlin Zoological Garden
The Aquarium Berlin in Berlin is one of Germany's largest aquariums. The aquarium was built in 1913 as part of the Berlin Zoological Garden complex. Since its opening the Zoo-Aquarium has been ranked among the public aquariums with the world's greatest biodiversity.
ar

حديقة حيوانات برلين
az

Berlin Zooloji Parkı
be

Берлінскі заапарк
br

Zoologischer Garten Berlin
ca

Jardí Zoològic de Berlín
da

Berlin Zoo
de

Zoologischer Garten Berlin
el

Ζωολογικός κήπος Βερολίνου
eo

Zoologia ĝardeno de Berlino
es

Jardín zoológico de Berlín
et

Berliini loomaaed
fa

باغوحش برلین
fi

Zoologischer Garten Berlin
fr

Zoo de Berlin
he

גן החיות של ברלין
hr

Zoološki vrt Berlin
hu

Berlini Állatkert
hy

Բեռլինի կենդանաբանական այգի
id

Zoologischer Garten Berlin
it

Zoologischer Garten
ja

ベルリン動物園
ko

베를린 동물원
lt

Berlyno zoologijos sodas
ms

Taman Zoologi Berlin
nb

Zoologischer Garten Berlin
nl

Zoologischer Garten Berlin
nn

Zoologischer Garten Berlin
pl

Ogród Zoologiczny w Berlinie
pt

Jardim Zoológico de Berlim
ru

Берлинский зоопарк
sr

Берлински зоолошки врт
sv

Berlins zoo
te

బెర్లిన్ జూలాజికల్ గార్డెన్
tr

Berlin Zoolojik Bahçesi
uk

Берлінський зоопарк
uz

Berlin hayvonot bogʻi
vi

Vườn thú Berlin
zh

柏林動物園
ceb

Zoologischer Garten
pnb

برلن چڑیا کعر
pt-br

Jardim Zoológico de Berlim
sr-ec

Берлински зоолошки врт
sr-el

Berlinski zoološki vrt
zh-cn

柏林动物园
zh-hk

柏林動物園
zh-sg

柏林动物园
zh-tw

柏林動物園
zh-hans

柏林动物园
zh-hant

柏林動物園