Tokyo Disneyland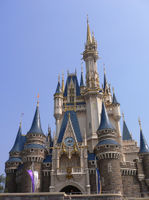 theme park in Japan, owned by The Oriental Land Company
Geographical coordinates: 35.632777777 139.880555555
Wikipedia
Places located in Tokyo Disneyland
The Tokyo Disney Resort (東京ディズニーリゾート, Tōkyō Dizunī Rizōto)(local nickname TDR) is a theme park and vacation resort located in Urayasu, Chiba, Japan, just east of Tokyo. It is owned and operated by the Oriental Land Company with a license from The Walt Disney Company. The resort opened on April 15, 1983, as a single theme park (Tokyo Disneyland), but developed into a resort with two theme parks, four Disney hotels, six non-Disney hotels, and a shopping complex. Tokyo Disneyland was the first Disney theme park opened outside the United States.
The Western River Railroad (reporting mark WRR) is a 2 ft 6 in (762 mm) narrow gauge rail transport attraction in Tokyo Disneyland, which opened on April 15, 1983. Its route is 5,283 feet (1,610 m) long and takes guests through the Adventureland, Westernland, and Critter Country sections.
The Astro Orbiter is a rocket-spinner attraction featured at five Disneyland-style parks at Walt Disney Resorts around the world (all except for Tokyo Disneyland). Although each ride may have a different name, all share the same premise of vehicles traveling through space by spinning around a central monument. As each form of the attraction appeared, new designs and locations have been implemented to fit with changing schemes of several Tomorrowlands.
ar

طوكيو ديزني لاند
cs

Tokijský disneyland
cy

Disneyland Tokyo
fa

دیزنیلند (توکیو)
fi

Tokio Disneyland
he

דיסנילנד
id

Disneyland Tokyo
ja

東京ディズニーランド
jv

Disneyland Tokyo
ko

도쿄 디즈니랜드
la

Terra Disney Tokium
my

တိုကျိုဒစ်စနီလန့်
pa

ਟੋਕੀਓ ਡਿਜ਼ਨੀਲੈਂਡ
ru

Токийский диснейленд
sl

Disneyland Tokio
th

โตเกียวดิสนีย์แลนด์
uk

Токійський Діснейленд
zh

東京迪士尼樂園
ceb

Tokyo Disney Land
nan

Tang-kiaⁿ Disneyland
yue

東京迪士尼樂園
zh-hk

東京迪士尼樂園
zh-hans

东京迪士尼乐园
zh-hant

東京迪士尼樂園