Ukraine State Aviation Museum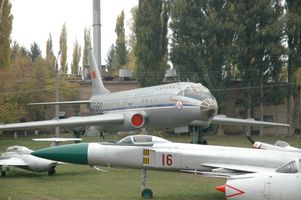 museum
Ukrainian State Aviation Museum
Wikimedia Commons category: 
Geographical coordinates: 50.407222222 30.459444444
Wikipedia
Wikivoyage
English

State Aviation Museum (Державний музей авіації України (Жуляни))

Inside the old Zhulyany Airport with many impressive Soviet civil and military aircraft on display, including an An-2, Tu-104, Il-62, Il-76, an Il-86 and is constantly improving. The museum is opposite to the airport terminal, which is an industrial zone. To get there, you can either take Trolleybus #9 from the main train station - Kiev Passazhyrskyi (South exit)/Vokzalna metro stop or #22 from Shuliavska (Шулявська) metro station, both until Sevastopolska Square. From there, take the minibus 220 that will take you straight to the museum (last stop). Walking in the surrounding area after dark is not advisable as the area is poorly lit and stray dogs are present.
Russian

Государственный музей авиации Украины

Крупнейший на Украине музей технического профиля. Является побратимом Музея Польской Авиации (г. Краков), Головного отраслевого музея истории гражданской авиации России (г. Ульяновск) и Национального Аэрокосмического музея США. На территории площадью 20 гектаров собрано около 70 экспонатов: вертолётов, ракетоносцев, истребителей, учебно-тренировочных и пассажирских самолётов.
es

Museo Nacional de Aviación de Ucrania
hu

Ukrán Állami Repülési Múzeum
ja

ウクライナ航空国立博物館
mk

Национален музеј на авијацијата на Украина
pl

Państwowe Muzeum Lotnictwa im. O. K. Antonowa
ru

Государственный музей авиации
uk

Державний музей авіації України