Red Square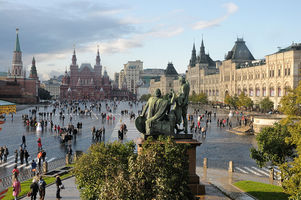 square in Moscow, Russia
Geographical coordinates: 55.754166666 37.62
Wikipedia
Wikivoyage
Italian

Piazza Rossa (Красная площадь / Krasnaja ploščad)

Si chiama così per una interpretazione impropria del termine russo Krasnajache non ha relazione con il colore rosso degli edifici che vi si affacciano né tanto meno con il colore di fondo degli stendardi del comunismo. Una traduzione più corretta è "Piazza Bella". Nella lingua russa arcaica il termine krasny (красный/-ая) ha infatti ambo i significati (rosso e bello). L'attributo era in origine riservato alla sola cattedrale di S. Basilio mentre fino al XVII secolo era invalso l'uso di riferirsi alla piazza come "Pojar" ("incendio") in relazione al fatto che la sua sistemazione fu avviata dopo il grande incendio del 1493 che distrusse gran parte della città. A quel tempo infatti gli edifici erano realizzati in legno, materiale fornito in abbondanza dalle foreste circostanti. Per scongiurare il verificarsi di nuovi incendi lo zar Ivan III ordinò l'impiego di mattoni per le nuove costruzioni. La piazza ha la forma di un vasto rettangolo delimitato nei suoi lati più lunghi dalle mura del Cremlino e il mausoleo di Lenin da una parte e dai grandi magazzini GUM dall'altra. Sui lati più corti stanno invece la cattedrale di San Basilio (lato sud, in direzione del fiume) e dirimpetto il museo di storia russa con la ricostruita porta della Resurrezione sul suo fianco.
Places located in Red Square
Lobnoye mesto (Russian: Лобное место) is a 13-meter-long stone platform situated on Red Square in Moscow in front of Saint Basil's Cathedral.
Its name is derived from the Russian words for "forehead" (lob) and "place" (Mesto). In old Russian lob meant a steep river bank. The platform, believed to have been constructed in brick in the 1530s, was first mentioned in 1547, when Ivan the Terrible addressed the Muscovites from there. Subsequently, it was primarily used for announcing the tsar's ukazes and for religious ceremonies. Despite a common misconception, the circular platform itself was never a place for executions. Sometimes scaffolds were placed by it, but usually public executions were carried out at Vasilevsky Spusk behind St. Basil's Cathedral.
In the Russian Empire, during Holy Week, the Palm Sunday procession called "donkey walk" would end at the Lobnoye Mesto where a depiction of Calvary had been erected. The Tsar himself, on foot to show humility, would lead the Patriarch of Moscow, who was seated on a donkey, in a procession from the city gates to Red Square.
The nearby Monument to Minin and Pozharsky commemorates the events of 1612, when Prince Pozharsky ascended the Lobnoye Mesto to pronounce Moscow free from Polish occupation. In 1786, the architect Matvei Kazakov had the Lobnoye Mesto rebuilt in white stone while keeping its original location and proportions.
af

Rooiplein
ar

الميدان الأحمر
az

Qırmızı meydan
ba

Ҡыҙыл майҙан
be

Чырвоная плошча
bg

Червен площад
bn

রেড স্কয়ার
bo

ཐང་ཆེན་དམར་པོ།
br

Plasenn Ruz
ca

plaça Roja
cs

Rudé náměstí
cv

Хĕрлĕ лапам
cy

Sgwâr Coch
da

Den Røde Plads
de

Roter Platz
el

Κόκκινη Πλατεία
eo

Ruĝa Placo
es

Plaza Roja
et

Punane väljak
eu

Plaza Gorria
fa

میدان سرخ
fi

Punainen tori
fr

place Rouge
fy

Reade Plein
ga

An Chearnóg Dhearg
gl

Praza Vermella
gn

Tenda Pytã
he

הכיכר האדומה
hi

रेड स्क्वायर
hr

Crveni trg
hu

Vörös tér
hy

Կարմիր հրապարակ
id

Lapangan Merah
io

Reda placo
is

Rauða torgið
it

piazza Rossa
ja

赤の広場
jv

Lapangan Abrit
ka

წითელი მოედანი
kk

Қызыл алаң
ko

붉은 광장
ku

Qada Sor
ky

Кызыл Аянт
la

Area Rubra
lt

Raudonoji aikštė
lv

Sarkanais laukums
mk

Црвен плоштад
ml

ചുവപ്പ് ചത്വരം
mr

लाल चौक
ms

Dataran Merah
nb

Den røde plass
ne

रेड स्क्वायर
nl

Rode Plein
nn

Den raude plassen
oc

Plaça Roja
pa

ਲਾਲ ਚੌਕ
pl

Plac Czerwony w Moskwie
pt

Praça Vermelha
ro

Piața Roșie
ru

Красная площадь
sh

Crveni trg
sk

Červené námestie
sl

Rdeči trg
sr

Црвени трг
sv

Röda torget
ta

செஞ்சதுக்கம்
th

จัตุรัสแดง
ti

ቀይሕ ኣደባባይ
tr

Kızıl Meydan
tt

Кызыл мәйдан
uk

Красна площа
ur

سرخ چوک
vi

Quảng trường Đỏ
zh

紅場
ast

Plaza Roja
diq

Meydano Sûr
sco

Reid Squerr
udm

Горд площадь
vep

Rusked torg
war

Pula nga Kwadrado
wuu

红场
yue

紅場
pt-br

Praça Vermelha
be-tarask

Чырвоная плошча