Statue of Liberty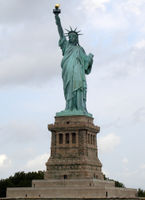 sculpture on Liberty Island in New York Harbor in New York City, New York, United States
Tourist attraction
Architectural structure
Geographical coordinates: 40.689209166 -74.044425277
Wikipedia
Wikivoyage
English

Statue of Liberty (Liberty Enlightening the World)

A gift from the people of France to celebrate the centennial of the United States, stands upon Liberty Island and is one of the most famous symbols of the nation and has been inscribed on the UNESCO World Heritage list. Upon departing the ferry, you can visit the Visitor Information Station, which has a schedule of the day's events. Visitors can also meet at the Liberty Island Flagpole (behind the statue) for a ranger-led tour of the island. You can also visit the monument lobby, museum (where you'll see various exhibits on the statue, the old torch, and the famous "New Colossus" sonnet), and outside to the promenade and Fort Wood (the 11-point star-shaped structure the statue stands upon). You can also take a trip to the pedestal observation deck (though not up into the statue itself, unless you have a Reserve with Crown ticket); visitors can look upward to view the interior of the statue (there are four marked viewing locations); and the pedestal observation deck provides a 360-degree view, which includes the New York City skyline. Security checks are rigorous, so travel as light as possible. Backpacks and other large bags are not permitted on the tours but can be stored in lockers for a fee. On busy days there may be long waits. Visitors with the Reserve with Crown ticket are allowed to climb up a circular staircase from the base of the statue to the crown, but tickets are very limited and should be reserved three or four months (up to one year) in advance. Children must be at least 4-feet tall, and must be able to walk up and down the stairs by themselves, and all ticket holders must show a photo ID to match the name on their tickets.
French

Statue de la Liberté

Incontournable à visiter par jour de beau temps. Attention à la sécurité très renforcée avant de prendre la navette fluviale. La vue de la ville et la statue elle-même sont superbes. Deux moyens de voir la statue, prendre un ferry payant (environ par personne) ou prendre le ferry entre Manhattan et Staten Island qui est gratuit (20-30 min de traversée). Vous éviterez les longues queues pour acheter les billets et les photos seront tout aussi belles, en contrepartie, vous ne pourrez pas monter sur Liberty Island. Une astuce : vous pouvez réserver à l'avance votre horaire de passage pour le ferry en vous présentant à la caisse un jour ou deux avant le jour prévu pour votre visite de Lady Liberty. Cela vous évitera la queue interminable pour prendre le ferry. Sinon il faut y être au moins avant le départ du premier ferry pour espérer être bien placé dans la file d'attente.
French

Statue de la Liberté

La Statue de la Liberté, ou, officiellement, La Liberté illuminant le monde, a été construite en France puis démontée et offerte aux États-Unis pour célébrer leur centenaire de leur existence. La Statue ainsi que l'îlot sur lequel elle se tient, se visitent, mais notez bien que ce fameux symbole de la nation américaine est une véritable forteresse, même selon les critères américains.En quittant le ferry , vous pouvez visiter le centre d'information touristique (Visitor Information Station) , qui affiche un programme des événements à venir. Les visiteurs peuvent aussi se réunir autour du mât porte-drapeau (derrière la statue) pour une visite encadrée par les gardes de l'île.Au cas où vous auriez un "reserved Pedestal/Museum ticket" (La mention "Monument" sera visible sur votre billet de ferry), vous devrez passer un deuxième contrôle de sécurité puis vous pourrez visiter le hall de monument, le musée (où vous verrez des expositions diverses sur la statue, la torche originale, etc.), la promenade extérieure et Fort Wood (le bunker en forme d'étoile sous le piédestal de la statue). Le "Pedestal/Museum Ticket" permet d'accéder par ascenseur à la terrasse d'observation du piédestal (mais non pas à l'intérieur de la statue elle-même), qui permet, en plus d'offrir une vue à 360° sur la baie (dont New York), de voir sous les jupes de la statue. L'ascenseur vous laissera à 24 marches du piédestal ; les contrôles sont très stricts par conséquent handicapés et porteurs de bagages ne pourront y accéder. (Pour les bagages, il existe cependant une consigne payante).Notez que seuls des billets réservés au moins 1 semaine à l'avance pour garantir votre accès au piédestal. Enfin, pour accéder à la Couronne de la statue, notez qu'il vous faudra réserver quelque chose comme 3, 4 mois à l'avance, quand ce n'est pas un an. Les enfants éventuels doivent mesurer au moins , et être capables de prendre les escaliers par eux-mêmes. Une pièce d'identité avec photo est obligatoire pour t...
Places located in Statue of Liberty
af

Vryheidstandbeeld
am

የአርነት ሐውልት
an

Estatua d'a Libertat
ar

تمثال الحرية
az

Azadlıq heykəli
ba

Азатлыҡ статуяһы
be

Статуя Свабоды
bg

Статуя на Свободата
bn

স্ট্যাচু অব লিবার্টি
bo

རང་དབང་ལྷ་མོའི་འདྲ་བརྙན།
br

Delwenn ar Frankiz
bs

Kip slobode
ca

estàtua de la Llibertat
ce

Маршон Статуя
cs

socha Svobody
cy

Cerflun Rhyddid
da

Frihedsgudinden
de

Freiheitsstatue
el

Άγαλμα της Ελευθερίας
eo

Statuo de Libereco
es

Estatua de la Libertad
et

Vabadussammas
eu

Askatasunaren Estatua
fa

مجسمه آزادی
fi

Vapaudenpatsas
fo

Frælsisgudinnan
fr

statue de la Liberté
fy

Frijheidsbyld
ga

Dealbh na Saoirse
gl

Estatua da Liberdade
gn

Sãso Tetera'ãnga
gu

ઉદારતાનું બાવલું
he

פסל החירות
hi

स्टैचू ऑफ़ लिबर्टी
hr

Kip slobode
hu

Szabadság-szobor
hy

Ազատության արձան
id

Patung Liberty
is

Frelsisstyttan
it

Statua della Libertà
ja

自由の女神像
jv

Reca Liberty
ka

თავისუფლების ქანდაკება
kk

Азаттық мүсіні
kn

ಸ್ವಾತಂತ್ರ್ಯದ ಪ್ರತಿಮೆ
ko

자유의 여신상
ku

Peykera Azadiyê
kw

Delow an Frankedh
ky

Эркиндик Мунарасы
la

Statua Libertatis
li

Vriejheidsbeeld
lo

ອະນຸສາວະລີເທພີເສລີພາບ
lt

Laisvės statula
lv

Brīvības statuja
mk

Статуа на Слободата
ml

സ്റ്റാച്യൂ ഓഫ് ലിബർട്ടി
mn

Эрх чөлөөний хөшөө
mr

स्वातंत्र्यदेवतेचा पुतळा
ms

Patung Liberty
my

လစ်ဘာတီ ရုပ်တု
nb

Frihetsgudinnen
ne

स्ट्याच्यु अफ लिबर्टी
nl

Vrijheidsbeeld
nn

Fridomsgudinna
oc

Estatua de la Libertat
pa

ਸਟੈਚੂ ਆਫ਼ ਲਿਬਰਟੀ
pl

Statua Wolności
pt

Estátua da Liberdade
ro

Statuia Libertății din New York
ru

Статуя Свободы
sc

Istàtua de sa Libertade
se

Friddjavuođabázzi
sh

Kip slobode
sk

Socha slobody
sl

Kip svobode
sq

Statuja e Lirisë
sr

Кип слободе
sv

Frihetsgudinnan
sw

Sanamu ya Uhuru
ta

சுதந்திரச் சிலை
te

స్వేచ్ఛా ప్రతిమ
th

อนุสาวรีย์เทพีเสรีภาพ
tk

Azatlyk heýkeli
tl

Istatwa ng Kalayaan
tr

Özgürlük Heykeli
tt

Азатлык сыны
uk

Статуя Свободи
ur

مجسمہ آزادی
uz

Ozodlik Haykali
vi

Tượng Nữ thần Tự do
yi

סטאטוע פון ליבערטי
yo

Ère Òmìnira
zh

自由女神像
arz

تمثال الحريه
ast

Estatua de la Llibertá
avk

Nuyuca koafisa va tamava
ban

Patung Liberty
bcl

Estatuwa nin Katalingkasan
bho

स्टैच्यू ऑफ लिबर्टी
ckb

پەیکەری ئازادی
diq

Heykelê Xoseriye
gan

自由女神像
gsw

Freiheitsstatue
hyw

Ազատութեան արձան
kbp

Pɛyɛɛ caɣʋ sɩʋkpelaɣ
lij

Statua da Libertæ
nan

Chū-iû Sîn-siōng
pap

Estatua di Libertad
pdc

Freiheitsstatue
pnb

مجسمہ آزادی
sco

Statue o Liberty
sgs

Liousībės statola
smn

Rijjâvuođâpääcis
vec

Statua de ła libartà
vep

Joudjuden statui
war

Estatuwa han Libertad
wuu

自由女神像
yue

自由神像
de-ch

Freiheitsstatue
pt-br

Estátua da Liberdade
zh-cn

自由女神像
zh-hans

自由女神像
be-tarask

Статуя Свабоды