Wollongong Botanic Garden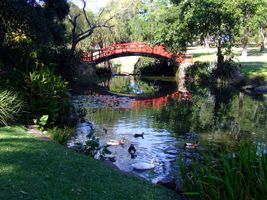 Geographical coordinates: -34.41 150.878
Wikipedia
English

Wollongong Botanic Garden
The Wollongong Botanic Garden is located in the Wollongong suburb of Keiraville at the foot of Mount Keira in New South Wales, Australia. It is the local botanical gardens of the Illawarra and was established in 1964. It was opened in September 1970.
The garden is co-located with the historic Gleniffer Brae house, used for functions and the Wollongong Conservatorium of Music.
A number of annexes are managed by the garden - Puckeys Estate Reserve in Fairy Meadow, the Korrongulla Wetlands in Primbee and the Mount Keira Summit Park.
Source: Wollongong Botanic Garden
Wikivoyage
English

Wollongong Botanical Garden

A usually uncrowded open space, with duck ponds and short walks. Bring some bread for the ducks, and a picnic.

Address

Murphys Ave, Keiraville
Places located in Wollongong Botanic Garden
Gleniffer Brae is a heritage-listed former residence and school and now conservatorium of music and function centre at Murphys Avenue, Keiraville, City of Wollongong, New South Wales, Australia. It was designed by Geoffrey D. Loveridge and built from 1937 to 1939 by L. Benbow in conjunction with W. W. Todd & Son (joinery), W. Wilson & Co. (bricks/tiles) and Hawkesbury Sandstone Co. (stone). It is also known as Glenifer Brae and Wollongong Conservatorium of Music. The property is owned by Wollongong City Council. It was added to the New South Wales State Heritage Register on 2 April 1999.
Image source:
• Wikimedia Commons CC-BY-SA-3.0 by

Original uploader was Lilcrabbygal (Vanessa Pike-Russell) at en.wikipedia