St. Barbara's Church, Kutná Hora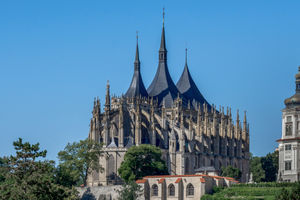 church in Kutná Hora District of Central Bohemian region
Church of Saint Barbara (Kutná Hora)
Wikimedia Commons category: 
Geographical coordinates: 49.94778 15.26722
Wikipedia
Wikivoyage
English

Church of St. Barbara

The works on the church started around 1380 by Peter Parler's workshop, whose other great work in the Czech Republic includes the imposing St. Vitus Cathedral at the Prague Castle. The eye-catching spires are truly magnificent. If you're looking for some fantastic Gothic Bohemian style, St. Barbara Church is certainly one of them alongside St. Vitus in Prague (although as you might see it soon after Prague, it might not make the same impression as seeing Vitus, which is even more grand).
Russian

Собор святой Варвары
Italian

Cattedrale di Santa Barbara

Patrimonio UNESCO, è considerata una delle chiese gotiche più famose dell'Europa centrale. La cattedrale fu fortemente voluta dagli imprenditori minerari della zona che desideravano sganciarsi dall'influenza della vicina abbazia di Sedlec ed intitolata a santa Barbara protettrice dei minatori. L'aspetto esterno è affascinante, nonostante il tetto sia stato completato solo nel diciannovesimo secolo. In origine erano previste otto cappelle radiali con interni trapezoidali. In seguito venne ricostruito il supporto per il coro, sostenuto da un contrafforte sospeso a doppia arcata. All'interno si possono ammirare le magnifiche vetrate, gli altari, i pulpiti ed il coro, oltre ad affreschi medievali che illustrano la vita secolare all'interno delle miniere cittadine. In particolare nella cappella di Mincirska gli affreschi raffigurano le tecniche che si usavano all'epoca per coniare le monete come la monetazione al martello.
ar

كنيسة سانت باربارا
az

Müqəddəs Varvara kafedralı
be

Сабор Святой Варвары
cs

chrám svaté Barbory
de

Dom der heiligen Barbara
eo

Katedralo Sankta Barbara
es

iglesia de Santa Bárbara
fr

église Sainte-Barbe de Kutná Hora
fy

Sint-Barbaratsjerke (Kutná Hora)
he

כנסיית סנט ברברה
hu

Szent Borbála-templom
it

cattedrale di Santa Barbara
ja

聖バルボラ教会
lt

Kutna Horos Šv. Barboros bažnyčia
nl

Sint-Barbarakerk
pl

Kościół świętej Barbary
ru

Собор Святой Варвары
sk

Chrám svätej Barbory
sl

Cerkev svete Barbare
tr

Azize Barbara Kilisesi, Kutná Hora
uk

Собор Святої Варвари
zh

圣巴巴拉教堂
zh-hk

聖巴巴拉教堂
zh-hans

圣巴巴拉教堂
zh-hant

聖巴巴拉教堂