Bondi Beach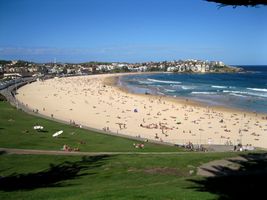 beach in Sydney, Australia
Geographical coordinates: -33.892 151.276
Wikipedia
cs

Bondi (pláž)
Bondi (IPA: 'bɒndaɪ, anglicky Bondi Beach) je nejpopulárnější pláž v Sydney. Nachází se na východním pobřeží jen sedm kilometrů od centra města v oblasti Bondi, od které má své jméno. Sama naopak dala jméno nejbližšímu okolí, čtvrti Bondi Beach.
Pláž je dlouhá zhruba kilometr, druhá nejdelší v jihovýchodní části pobřeží Sydney (první je Maroubra Beach) a je oblíbená pro běžnou rekreaci i pro surfaře. Každoročně ji navštíví statisíce návštěvníků, obvyklá letní návštěva představuje 40 tisíc lidí každý víkend, oblíbená je ale také o Vánocích. Přesto se současné návštěvy nevyrovnají až dvěstětisícovým davům, které se zde pravidelně rekreovaly ve 20. letech 20. století.
Source: Bondi (pláž)
Places located in Bondi Beach
The Bondi Beach Cultural Landscape is a heritage-listed former Turkish baths, pavilion with dressing cubicles, dining rooms, sunbaking, shops and ballroom and now art gallery, pavilion, theatre and open air cinema located at Queen Elizabeth Drive, Bondi Beach, Waverley Municipality, Sydney, New South Wales, Australia. The pavilion was designed by Robertson and Marks, with Leith C. McCredie the architect. The Bondi Surf Life Savers' Club, erected c. 1934, was designed by Ross & Rowe. The Bondi Pavilion was designed by John Howie & Sons. The cultural landscape includes the beach itself, Bondi Surf Pavilion, Bondi Park and Bondi Surf Life Saving Club and the North Bondi Surf Club. The landscape was added to the New South Wales State Heritage Register on 23 May 2008.
Address: Campbell Parade, Bondi Beach NSW
cs

Bondi
he

בונידי ביץ'
sv

Bondi Beach (strand)
ceb

Bondi Beach (lapyahan)