Museum of Applied Arts and Science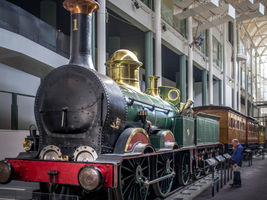 science museum in Sydney, Australia
Geographical coordinates: -33.878611111 151.199444444
Wikipedia
Wikivoyage
English

Powerhouse Museum

The Powerhouse Museum has a variety of permanent and temporary exhibitions including the King's Cinema, an intact art deco cinema, Locomotive No 1, Experimentations, Ecologic, the Strasbourg Clock, the Steam Revolution and Interface. There is a cafe and museum shop.
English

Powerhouse Museum

Science Museum with child friendly exhibits.

Address

500 Harris St, Ultimo
Places located in Museum of Applied Arts and Science
The Sharpies Golf House Sign is a heritage-listed neon animated advertising sign in Sydney, Australia. It was built from 1958 to 1964 by Consolidated Neon (later Claude Neon), and sat atop a golfing business at 216 – 220 Elizabeth Street, Sydney from 1964 to 2007. It was subsequently taken down and donated to the Powerhouse Museum. It was added to the New South Wales State Heritage Register on 1 November 2002.
Address: 500 Harris St, Ultimo NSW
de

Powerhouse Museum
fr

Powerhouse Museum
id

Powerhouse Museum
ja

パワーハウス博物館
nl

Powerhouse Museum
zh

动力博物馆
zh-cn

动力博物馆