Singapore Zoo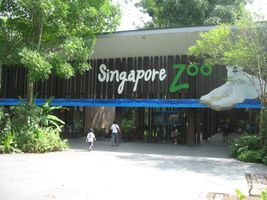 zoological gardens in Singapore
Geographical coordinates: 1.404417 103.791139
Wikipedia
Wikivoyage
English

Singapore Zoo

This rainforest zoo is home to over 3,000 animals from over 316 species. The animals are kept in spacious, landscaped enclosures, separated from the visitors by dry or wet moats. The park boasts the world's first free ranging orang utan habitat in a zoo. To spare yourself walking under the hot tropical sun, you can board a little tram that trundles through the park.; Bring along swimsuits for kids, so they can cool off in the "Rainforest Kidzworld". ; There's also an award-winning programme, the Jungle Breakfast with Wildlife ($29/19 adult/child extra), daily from 09:00-10:30, where you get to enjoy a buffet in the company of elephants, orangutans, snakes, and more. Advanced booking is highly recommended to ensure a spot.

Address

80 Mandai Lake Road

Price

$22/14 adult/child (3-12 years)
Places located in Singapore Zoo
The River Safari is a river-themed zoo and aquarium located in Singapore. It is built over 12 hectares (30 acres) and nestled between its two counterparts, the Singapore Zoo and the Night Safari, Singapore. It is the first of its kind in Asia and features freshwater exhibits and a river boat ride as its main highlights. The safari was built at a cost of S$160m, with an expected visitor rate of 820,000 people yearly.The Giant Panda Forest was opened to the public on 29 November 2012, with a soft opening on 3 April 2013, attracting close to 1,500 visitors. This attraction is the fourth zoo in Singapore, along with the Singapore Zoo, Jurong Bird Park, and Night Safari, all of which are managed by Wildlife Reserves Singapore. The park was officially opened on 28 February 2014, and it was announced that more than 1.1 million have visited the River Safari since its soft opening in April 2013.
ar

حديقة حيوانات سنغافورة
az

Sinqapur Zooloji Parkı
bn

সিঙ্গাপুর চিড়িয়াখানা
el

Ζωολογικός κήπος Σιγκαπούρης
es

Zoológico de Singapur
fa

باغ وحش سنگاپور
fi

Singaporen eläintarha
fr

Zoo de Singapour
he

גן החיות של סינגפור
it

zoo di Singapore
ja

シンガポール動物園
ka

სინგაპურის ზოოპარკი
ko

싱가포르 동물원
ms

Taman Haiwan Singapura
ru

Зоопарк Сингапура
ta

சிங்கப்பூர் விலங்குக் காட்சிச்சாலை
th

สวนสัตว์สิงคโปร์
vi

Sở thú Singapore
zh

新加坡動物園
zh-cn

新加坡动物园
zh-hans

新加坡动物园
Photos:
Image from
Wikimedia Commons
under CC BY 2.5 by
No machine-readable author provided. Terence assumed (based on copyright claims).