Roman Theatre of Aspendos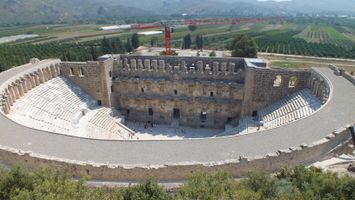 ancient Roman theatre in Aspendos, Turkey
Ancient Roman theater in Aspendos
Wikimedia Commons category: 
Geographical coordinates: 36.938889 31.172222
Wikipedia
Ukrainian

Давньоримський театр в Аспендосі
Давньоримський театр в Аспендосі — давньоримський театр, котрий належить до трьох найбільш збережених театральних споруд в світі.
Source: Давньоримський театр в Аспендосі
Places located in Roman Theatre of Aspendos
Aspendos or Aspendus (Pamphylian: ΕΣΤϜΕΔΥΣ; Attic: Ἄσπενδος) was an ancient Greco-Roman city in Antalya province of Turkey. The site is located 7 kilometres (4.3 mi) northeast of central Serik.
ca

Teatre romà d'Aspendos
nl

Romeins theater van Aspendos
uk

Давньоримський театр в Аспендосі