Theater des Westens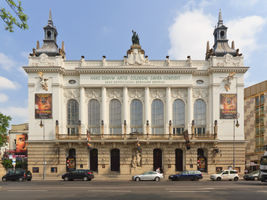 theatre in Berlin, Germany
Geographical coordinates: 52.5059 13.3291
Wikipedia
Wikivoyage
English

Theater des Westens (Theatre of the West)

A historic theatre in the former West Berlin, only musicals today.
Places located in Theater des Westens
Quasimodo is a music venue in the Charlottenburg district of Berlin, the capital of Germany. It is located in the basement of the building of the Delphi Filmpalast, a former dance hall and movie theater which is also home to the Quasimodo Café and the Vaganten Bühne theatre. The club offers accommodation for up to 350 seated guests. Rock, Latin music and world music are also presented in concerts along with its more traditional emphasis on modern jazz, blues, soul and funk. Its programme features renowned international artists as well as musicians from the local Berlin and national scene.
ja

テアーター・デス・ヴェステンス
zh

西劇院
arz

مسرح دى ويستنس
zh-cn

柏林西城歌剧院
zh-hans

柏林西城歌剧院
zh-hant

柏林西城歌劇院
Image source:
• Wikimedia Commons CC BY-SA 3.0 by

A.Savin (Wikimedia Commons · WikiPhotoSpace)