Aquarium Berlin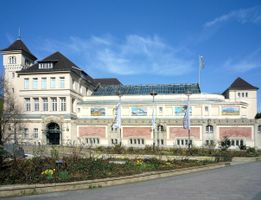 aquarium in Berlin, Germany
Geographical coordinates: 52.505833333 13.340555555
Wikipedia
English

Aquarium Berlin
The Aquarium Berlin in Berlin is one of Germany's largest aquariums. The aquarium was built in 1913 as part of the Berlin Zoological Garden complex. Since its opening the Zoo-Aquarium has been ranked among the public aquariums with the world's greatest biodiversity.
Source: Aquarium Berlin
German

Aquarium Berlin
Das Aquarium Berlin besteht seit 1913. Nach fast völliger Zerstörung im Zweiten Weltkrieg, problematischem Wiederaufbau und späterer umfassender Sanierung und Erweiterung ist es heute eine der artenreichsten Einrichtungen dieser Art weltweit. Neben Meeres- und Süßwasserbewohnern werden auch Amphibien, Reptilien und Insekten gezeigt. Das Haus liegt im Ortsteil Tiergarten des Bezirks Mitte auf dem Gelände des Zoologischen Gartens. Ein zweiter, viel genutzter Eingang führt direkt vom Olof-Palme-Platz an der Budapester Straße in das Gebäude. Auf Wunsch können mit kombinierten Tickets sowohl das Aquarium als auch der Zoo besucht werden. Für Kinder und Jugendliche werden differenzierte Programme angeboten. Zusammen mit dem Zoologischen Garten steht das Aquarium Berlin unter Denkmalschutz. Beide Einrichtungen werden gemeinsam als börsennotierte und gemeinnützige Aktiengesellschaft geführt.
Source: Aquarium Berlin
Spanish

Acuario de Berlín
El Acuario de Berlín (en alemán: Aquarium Berlin)? es uno de los acuarios más grandes de Alemania.Se encuentra en Berlín, la capital del país. El acuario fue construido en 1913 como parte del complejo del Jardín Zoológico de Berlín.[1]​ Desde su apertura el Zoológico-Acuario ha sido clasificado entre los acuarios públicos con mayor biodiversidad del mundo. Con un boleto separado o conjunto se puede visitar tanto el acuario como el zoológico.
Más de 9.000 animales se presentan en tres plantas. Contiene medusas, peces tropicales y nativos, cocodrilos, y una amplia variedad de insectos.
Source: Acuario de Berlín
Wikivoyage
English

Aquarium

The largest aquarium in Germany with over 9000 animals that are presented on three storeys in an historic building. Aquarium Berlin is found on the premises of the Zoo, but can also be visited separately. One of the best places on a rainy day with children.

Address

Budapester Straße 32

Price

Adult €15.50, student €10.50, family ticket €41
es

Acuario de Berlín
ms

Akuarium Berlin
zh

柏林水族馆
zh-cn

柏林水族馆
zh-hans

柏林水族馆
zh-hant

柏林水族館