Kongresshalle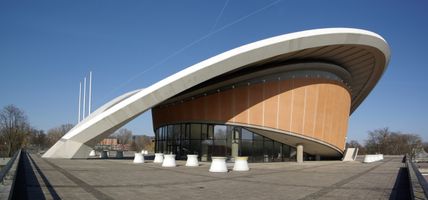 building in Berlin-Tiergarten
Geographical coordinates: 52.5189 13.3653
Wikipedia
German

Kongresshalle (Berlin)
Die Kongresshalle ist ein Berliner Gebäude für Veranstaltungen und Ausstellungen an der John-Foster-Dulles-Allee im Großen Tiergarten und Regierungsviertel. Bis heute bewirkt die Kongresshalle Aufsehen und Anziehung mit ihrem Dach, das sich in einem weiten und hohen Bogen über das Auditorium spannt. Das Dach besteht aus einem Netz von Stahlseilen, das an zwei Stahlbögen aufgehängt ist und hier mit Beton abgedeckt wurde.
In den ersten Jahrzehnten war die Kongresshalle ein prominentes Symbol für die deutsch-amerikanische Allianz und wurde während der Ära des Kalten Krieges und darüber hinaus politisch instrumentalisiert. Nach dem Teileinsturz 1980 und dem Wiederaufbau 1987 änderte sich die kulturpolitische Agenda, der deutsch-amerikanische Schwerpunkt wird seitdem durch ein multikulturelles Programm im Haus der Kulturen der Welt (HKW) erweitert. Das Auswärtige Amt beaufsichtigt das HKW als eine von fünf beauftragten und finanzierten Mittlerorganisationen im Bereich der Auswärtigen Kulturpolitik. Das HKW erhält eine Regelförderung vom Auswärtigen Amt und vom Bundesbeauftragten für Kultur und Medien.
Source: Kongresshalle (Berlin)
French

Salle des Congrès (Berlin)
La Salle des Congrès (en allemand : Kongresshalle) de Berlin est un bâtiment situé dans le quartier Tiergarten.
Depuis 1989, elle est le siège de la Maison des cultures du monde.
Elle est surnommée par les Allemands « l'huitre enceinte ».
Source: Salle des Congrès (Berlin)
Wikivoyage
English

Kongresshalle – Haus der Kulturen der Welt (House of the Cultures of the World)

Germany's national centre for contemporary non-European art. The house is a leading centre for the contemporary arts and a venue for projects breaking through artistic boundaries. This architectural landmark was an American contribution to the international building exhibition INTERBAU 1957 as an embodiment of the free exchange of ideas. Colloquially called Schwangere Auster (Pregnant Oyster).

Address

John-Foster-Dulles-Allee

Price

Around €8 depending on exhibit
French

Salle des Congrès (Kongreßhalle)

Depuis 1989, elle est le siège de la Maison des cultures du monde (Haus der Kulturen der Welt).
fr

salle des Congrès
he

מרכז הקונגרסים
ja

コングレスホール
ru

Зал конгрессов
zh

議會大廳
zh-cn

柏林大会堂
zh-hans

会议中心
zh-hant

議會大廳