Syon Park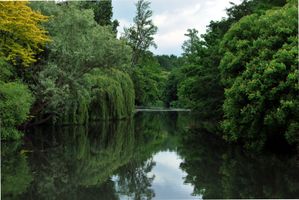 park in the United Kingdom
Geographical coordinates: 51.4761 -0.308
Wikipedia
English

Syon Park
Syon Park is the 56.6 hectare (139 acre) garden of Syon House, the London home of the Duke of Northumberland in Isleworth in the London Borough of Hounslow. It was landscaped by Capability Brown in the 18th century, and it is Grade I listed by English Heritage under the Historic Buildings and Ancient Monuments Act 1953 for its special historic interest. The 56.6 hectare main gardens are a Site of Borough Importance for Nature Conservation, Grade I, and the flood meadows next to the River Thames are a biological Site of Special Scientific Interest (SSSI) and a Site of Metropolitan Importance for Nature Conservation.
Source: Syon Park
Wikivoyage
English

Syon Park

The stately home of the Dukes of Northumberland for 400 years, Syon House and its 200-acre estate are located between Brentford and Isleworth. The main house was built to a design by the English architect Robert Adams, the grounds laid out by Capability Brown. The Great Conservatory, commissioned to be built in 1826, was featured in the Peter Cook and Dudley Moore film Bedazzled, and is a popular local wedding venue; Syon House itself has appeared in a vast number of period dramas. Well worth a visit.

Price

Syon House & Gardens & Great Conservatory £7.50, concessions/child £6.50, family £17.00; Gardens & Great Conservatory £3.75, concessions/child £2.50, family £9.00
Italian

Parco Syon (Syon Park)

È stato per 400 anni il palazzo signorile del Duca di Northumberland. Syon House e i suoi 200 acri sono situati tra Brentford e Isleworth. La casa principale fu cotruita seguendo il progetto dell'architetto Robert Adams e il terreno fu progettato da Capability Brown. Il grande giardino d'inverno fu commissionato nel 1826 ed è oggi un sala da matrimoni. Questo edifcio è stato utilizzato anche in molti film.

Address

Brent Lea, Brentford TW8 8JF

Price

Palazzo & giardini & Giardino d'inverno £7.50, concessioni/bambini £6.50, famiglie £17.00; Giardini & Giardino d'inverno £3.75, concessioni/bambini £2.50, famiglie £9.00

Hours

Palazzo: 24 Mar-31 Oct, Mer, Gio, Dom, venerdì delle ceneri, sabato di Pasqua 11:00'17:00 (ultimo ingresso 16:15), giardini Lun-Dom 10:30-17:00 o a tramonto
Places located in Syon Park
Syon House , and its 200-acre (80 hectare) park, Syon Park, is in west London, historically within the parish of Isleworth, in the county of Middlesex. It is a Grade I listed building that belongs to the Duke of Northumberland and is now his family's London residence. The family's traditional central London residence had been Northumberland House, now demolished. The eclectic interior of Syon House was designed by the architect Robert Adam in the 1760s.
The London Butterfly House was a visitor attraction in Brentford, Middlesex, England where the public could view butterflies, birds, reptiles, amphibians, insects, and arachnids.
Set in Syon Park, the grounds of Syon House, the facility consisted of three purpose built greenhouses situated overlooking a lake. The facility contained hundreds of the world's most exotic species of butterfly, along with descriptions and illustrations. It also contained a small aviary.
The London Butterfly House closed on 28 October 2007, due to the Duke of Northumberland's plans to build a hotel complex on the land. The greenhouses were demolished in November/December 2007 and the 5 star hotel built in their place. The London Syon Park (part of the Hilton Worldwide Waldorf Astoria Hotels and Resorts) opened in March 2011 with conference facilities, restaurants, and a spa.There was a proposal to build a replacement Butterfly House in Gunnersbury Park, but this was rejected.The owners of the London Butterfly House acquired The Butterfly and Wildlife Park in Long Sutton, Lincolnshire, to which the creatures and many of the plants have been re-located. Unfortunately this closed in 2012 due to rising costs and reduced visitor numbers.