Queen Elizabeth Olympic Park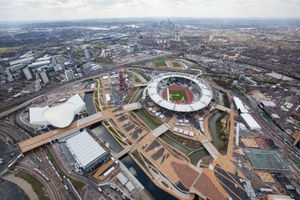 sporting complex in London, England
Geographical coordinates: 51.54615 -0.012688888
Wikipedia
Wikivoyage
English

Queen Elizabeth Olympic Park

Site of the London 2012 Olympics and the ArcelorMittal Orbit with the world's longest slide.
Places located in Queen Elizabeth Olympic Park
The ArcelorMittal Orbit (often referred to as the Orbit Tower or its original name, Orbit) is a 114.5-metre-high sculpture and observation tower in the Queen Elizabeth Olympic Park in Stratford, London. It is Britain's largest piece of public art, and is intended to be a permanent lasting legacy of London's hosting of the 2012 Summer Olympic and Paralympic Games, assisting in the post-Olympics regeneration of the Stratford area. Sited between the Olympic Stadium (now called London Stadium) and the Aquatics Centre, it allows visitors to view the whole Olympic Park from two observation platforms.
Orbit was designed by Turner-Prize winning artist Sir Anish Kapoor and Cecil Balmond of Arup Group, an engineering firm. Announced on 31 March 2010, it was expected to be completed by December 2011. The project came about after Mayor of London Boris Johnson and Olympics Minister Tessa Jowell decided in 2008 that the Olympic Park needed "something extra". Designers were asked for ideas for an "Olympic tower" at least 100 metres (330 ft) high: Orbit was the unanimous choice from proposals considered by a nine-person advisory panel. Kapoor and Balmond believed that Orbit represented a radical advance in the architectural field of combining sculpture and structural engineering, and that it combined both stability and instability in a work that visitors can engage with and experience via an incorporated spiral walkway. It has been both praised and criticised for its bold design, and has especially received criticism as a vanity project of questionable lasting use or merit as a public art project.
The project was expected to cost £19.1 million, with £16 million coming from Britain's then-richest man, the steel tycoon Lakshmi Mittal, Chairman of the ArcelorMittal steel company, and the balance of £3.1 million coming from the London Development Agency. The name "ArcelorMittal Orbit" combines the name of Mittal's company, as chief sponsor, with Orbit, the original working title for Kapoor and Balmond's design.
The ArcelorMittal Orbit temporarily closed after the 2012 Olympic and Paralympic Games while the South Plaza (in which Orbit is positioned) underwent reconstruction for its long-term legacy use as a public outdoor space. It re-opened to the public on 5 April 2014. The structure incorporates the world's tallest and longest (178 metres) tunnel slide, designed by Carsten Höller. The idea was originally envisioned by the London Legacy Development Corporation as a way to attract more visitors to the tower. The slide includes transparent sections to give a "different perspective" of the twisting red tower and was completed in June 2016. This follows an option to abseil down the tower, introduced in 2014.
af

Olympic Park
bg

Олимпийски парк
cs

Olympijský park
de

Olympiapark London
el

Ολυμπιακό Πάρκο Λονδίνου
eo

Olimpika Parko de Londono
es

Parque Olímpico de Londres
et

Londoni olümpiapark
fa

المپیک پارک
fi

Lontoon olympiapuisto
fo

Olympic Park
fr

parc olympique de Londres
he

הפארק האולימפי
hi

ओलम्पिक पार्क
it

parco olimpico di Londra
ja

オリンピック・パーク
ko

올림픽 공원
mk

Олимписки парк
nb

Olympiaparken i London
nl

Olympic Park
pt

Olympic Park
sh

Olimpijski park
sr

Олимпијски парк
sv

Olympic Park
ta

ஒலிம்பிக் பூங்கா, இலண்டன்
th

อุทยานโอลิมปิกลอนดอน
tr

Londra Olimpiyat Parkı
zh

奧林匹克公園
azb

المپیک پارک
ceb

Olympic Park
de-ch

Olympiapark London
pt-br

Parque Olímpico Rainha Isabel