Kaiser-Wilhelm-Gedächtniskirche
Kaiser Wilhelm Gedächtniskirche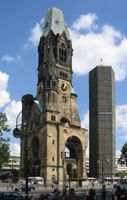 church in Berlin
Kaiser-Wilhelm-Gedächtniskirche
Wikimedia Commons category: 
Geographical coordinates: 52.504722222 13.335277777
Wikipedia
Wikivoyage
English

Kaiser Wilhelm Memorial Church (Kaiser-Wilhelm-Gedächtniskirche)

Also known as "der hohle Zahn" (the Hollow Tooth), this church in Breitscheidplatz is a memorial to Kaiser Wilhelm, and one of Berlin's most famous landmarks. Thick walls and plain decor mark it as neo-Romanesque, but with what's left of the Gedächtniskirche, it's tough to distinguish it as any one style. Allied bombing left only one tower standing on 22 November 1943, but a new location for worship designed by Egon Eiermann was completed in December 1961 (it's the octagonal structure with blue stained glass windows). There is a small memorial museum beneath the tower filled with artifacts from the original church, which was built from 1891-95 to architect Franz Schwechten's specifications.Controversy arose after the war over the various options presented by the half-ruined cathedral - should it be torn down completely and rebuilt? Or should the destroyed sections be left standing as a memorial? The four major sections of the Kaiser-Wilhelm-Gedächtniskirche (central space, foyer, new tower and chapel) surround the ruined tower of the old church bridge and show the time gap between old and new. Mosaics and other remnants from the old church serve as a monument against war.
French

La Gedächtniskirche (église du Souvenir)
Italian

Chiesa commemorativa del kaiser Guglielmo (Kaiser-Wilhelm-Gedächtniskirche)
be

Мемарыяльная царква кайзера Вільгельма
ca

església Memorial Kaiser Wilhelm
cs

Pamětní kostel císaře Viléma
eo

Imperiestro-Vilhelmo-Memor-Preĝejo
es

iglesia Memorial Kaiser Wilhelm
eu

Gilen Kaiserraren Oroimenezko Eliza
fa

کلیسای یادبود قیصر ویلهلم
fi

Keisari Vilhelmin muistokirkko
fr

église du Souvenir de Berlin
gl

Igrexa Memorial Kaiser Wilhelm
he

כנסיית הזיכרון על שם הקייזר וילהלם
hu

Vilmos császár emléktemplom
ja

カイザー・ヴィルヘルム教会
ko

카이저 빌헬름 기념 교회
la

Ecclesia Memoriae Gulielmi Imperatoris
lb

Keeser-Wëllem-Gediechtnes-Kierch
pl

Kościół Pamięci
pt

Kaiser Wilhelm Gedächtniskirche
ro

Kaiser-Wilhelm-Gedächtnis-Kirche
ru

Мемориальная церковь кайзера Вильгельма
sl

Spominska cerkev cesarja Viljema
sr

Спомен-црква цара Вилхелма
th

โบสถ์อนุสรณ์ไกเซอร์วิลเฮล์ม
uk

Меморіальна церква кайзера Вільгельма
zh

威廉皇帝纪念教堂
pnb

قیصر ولیم میموریل گرجا
sr-ec

Спомен-црква цара Вилхелма
sr-el

Spomen-crkva cara Vilhelma
zh-cn

威廉皇帝纪念教堂
zh-hk

威廉皇帝紀念教堂
zh-sg

威廉皇帝纪念教堂
zh-tw

威廉皇帝紀念教堂
zh-hans

威廉皇帝纪念教堂
zh-hant

威廉皇帝紀念教堂
be-tarask

Мэмарыяльная царква кайзэра Вільгельма