Fairfield Halls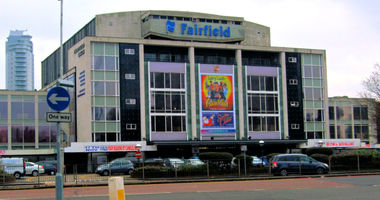 arts, entertainment and conference centre in Croydon, London
Geographical coordinates: 51.372222222 -0.095833333
Wikipedia
English

Fairfield Halls
Fairfield Halls is an arts, entertainment and conference centre located in Croydon, London. It opened in 1962 and contains a theatre and gallery, and the large concert hall has been regularly used for BBC television, radio and orchestral recordings. Fairfield Halls closed for a £30 million redevelopment in July 2016, and reopened in September 2019. As part of the building's re-opening it was also announced that Talawa Theatre Company would relocate to the building, taking up a 200 seat theatre space and offices.Although the venue has been a major venue for professional music, plays, musicals, stand-up comedy and classical music, a significant proportion of Fairfield's programme has been for community events. It was frequently used by local schools as the venue for their annual choral concerts, as well as being regularly used by local music, opera, amateur dramatic and religious organisations. The Concert Hall features a cinema with Croydon's largest cinema screen.
Source: Fairfield Halls
French

Fairfield Halls
Fairfield Halls est une salle de spectacle britannique située à Croydon, dans le Grand Londres.
Portail de l'architecture et de l'urbanisme Portail des arts du spectacle Portail de Londres
Source: Fairfield Halls
Wikivoyage
English

Fairfield Halls

Address

Park Lane, Croydon, CR9 1DG
Italian

Fairfield Halls

Centro per le arti aperto nel 1962, spesso utilizzato per registrare programmi della BBC.

Address

Park Lane, Croydon CR9 1DG
Places located in Fairfield Halls
The Ashcroft Theatre is a theatre located within the Fairfield Halls, Croydon, South London. The theatre was named after Croydon-born Dame Peggy Ashcroft and is a proscenium theatre with a stepped auditorium. The mural on its fire curtain is by the artist Henry Bird. A variety of productions are held throughout the year such as drama, ballet, opera and pantomime. The venue has a seating capacity of 763 and can be converted into a cinema as it has a large screen giving full Cinemascope and standard film format.The Ashcroft Theatre was opened on 5 November 1962 by Dame Peggy Ashcroft. The opening ceremony included the reading of a monologue specially penned by Sir John Betjemen called 'Local Girl Makes Good'. The first play was 'Royal Gambit' starring Dulcie Gray. Those to have trodden the boards at The Ashcroft Theatre include Richard Todd, Rex Harrison and Dame Peggy herself.The auditorium is on two tiers with the stalls heavily raked. The front of the circle is unadorned and the straight walls have natural finishes. The stage, with false proscenium, is well equipped with 30 single purchase counterweight sets for flying, and an orchestra pit on a hydraulic lift which can accommodate up to 16 players. Alterations to the forestage were undertaken to lessen the barrier provided by the original Juliet balcony and side door structures.The theatre closed in 2016 for renovation work on the Fairfield Halls, and reopened in September 2019. During the refurbishment, the centre aisles of the theatre were removed to create a Continental Auditorium seating arrangement, increasing capacity to 798 without kills. Further works in January 2020 replaced the recycled seating from before the renovation works with new grey seating, creating a much more modern look.
Address: Park Lane, London, Croydon, CR9 1DG, England
fa

سالن فیرفیلد
ja

フェアフィールド・ホール