Wembley Stadium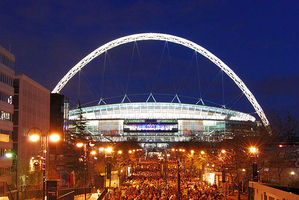 football stadium in London, England, which opened in 2007
Geographical coordinates: 51.555556 -0.279444
Wikipedia
Wikivoyage
English

Wembley Stadium

The large arch, the answer to the old stadium's twin towers, is an impressive structure and is often lit up to celebrate special occasions (such as London winning the 2012 Olympic Games bid).
Italian

Stadio di Wembley (Wembley Stadium)

Il grande arco è la risposta alle torri gemelle del vecchio stadio, è una struttura impressionate spesso illuminata per celebrare occasioni speciali (come quando Londra ha vinto l'asta per le olimpiadi).
Places located in Wembley Stadium
The original Wembley Stadium (; originally known as the Empire Stadium) was a football stadium in Wembley Park, London, which stood on the same site now occupied by its successor.Wembley hosted the FA Cup final annually, the first in 1923, the League Cup final annually, five European Cup finals, the 1966 World Cup Final, and the final of Euro 96. Brazilian footballer Pelé once said of the stadium: "Wembley is the cathedral of football. It is the capital of football and it is the heart of football," in recognition of its status as the world's best-known football stadium. The stadium hosted the 1948 Summer Olympics, rugby league's Challenge Cup final, and the 1992 and 1995 Rugby League World Cup Finals. It also hosted numerous music events, including the 1985 Live Aid charity concert.
The Bobby Moore statue is a bronze sculpture of the former West Ham and England footballer Bobby Moore, situated directly outside England's national stadium, Wembley Stadium, in Wembley Park, north-west London. It commemorates the life of Moore, who captained the only England side ever to win the World Cup, defeating Germany 4–2 in the 1966 FIFA World Cup Final held in England at the old Wembley Stadium, demolished in 2003. Commissioned by the Football Association, it was unveiled outside the new stadium when it opened in 2007, fourteen years after Moore's death from cancer, aged 51. Standing 20 feet (6.1 m) tall on a stone plinth, it looks out over spectators as they walk down Wembley Way into the stadium. Sculpted by the Royal Sculptor Philip Jackson, it is Jackson's second piece featuring Moore, after the World Cup Sculpture unveiled in 2003.
Watkin's Tower was a partially completed iron lattice tower in Wembley Park, London, England (then in Middlesex). Its construction was an ambitious project to create a 358-metre (1,175 ft)-high visitor attraction in Wembley Park to the north of the city, led by the railway entrepreneur Sir Edward Watkin. Marketed as the "Great Tower of London", it was designed to surpass the height of the Eiffel Tower in Paris, and it was part of Wembley Park's emergence as a recreational place. The tower was never completed and it was demolished in 1907. The site of the tower is now occupied by the English national football ground, Wembley Stadium.
Address: Wembley Park, London, UK, HA9 0WS
af

Wembley-stadion
ar

ملعب ويمبلي
az

Uembli
be

Уэмблі
bg

Уембли
bn

ওয়েম্বলি স্টেডিয়াম
bs

Stadion Wembley
cs

Stadion Wembley
cy

Stadiwm Wembley
de

Wembley-Stadion
el

Στάδιο Γουέμπλεϊ
eo

Stadiono Wembley
es

Estadio de Wembley
et

Wembley staadion
fa

ورزشگاه ومبلی
ga

Staidiam Wembley
he

אצטדיון ומבלי
hi

वेम्बली स्टेडियम
hu

Wembley Stadion
hy

Ուեմբլի մարզադաշտ
id

Stadion Wembley
is

Wembley-leikvangur
it

stadio di Wembley
ja

ウェンブリー・スタジアム
jv

Stadion Wembley
ka

უემბლი
kk

Уэмбли
ko

웸블리 스타디움
lt

Wembley stadionas
lv

Vemblija stadions
mn

Уэмбли цэнгэлдэх хүрээлэн
mr

वेंब्ली स्टेडियम
ms

Stadium Wembley
pa

ਵੈਂਬਲੀ ਸਟੇਡੀਅਮ
pl

Stadion Wembley
pt

Estádio de Wembley
ro

Stadionul Wembley
ru

Уэмбли
sr

Вембли
sw

Uwanja wa Wembley
ta

வெம்பிளி விளையாட்டரங்கம்
th

สนามกีฬาเวมบลีย์
tr

Wembley Stadyumu
tt

Вембли
uk

Вемблі
vi

Sân vận động Wembley
zh

温布利球场
arz

ستاد ويمبلى
ast

Estadiu de Wembley
ckb

یاریگای وێمبلی
wuu

温布利球场
xmf

უემბლი
yue

溫布萊球場
kk-cn

ۋەمبلىي
kk-kz

Уэмбли
kk-tr

Wémblï
pt-br

Estádio de Wembley
sr-ec

Вембли
sr-el

Vembli
zh-cn

温布利球场
zh-hk

溫布萊球場
zh-sg

温布利球场
zh-tw

溫布利球場
kk-arab

ۋەمبلىي
kk-cyrl

Уэмбли
kk-latn

Wémblï
zh-hans

温布利球场
zh-hant

溫布利球場