Wimbledon Common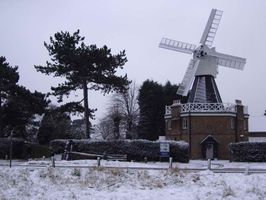 open space in Wimbledon, south-west London
Geographical coordinates: 51.429722222 -0.238333333
Wikipedia
Wikivoyage
English

Wimbledon Common

A large area (460 hectares) of woodlands, open grass areas and healthland with a windmill, nature trails and ponds. Also the legendary home of the Wombles.
Italian

Parco di Wimbledon (Wimbledon Common)

Una vasta area di 460 ettari con bosco, prati e un mulino a vento, percorsi nella natura e stagni.
Places located in Wimbledon Common
he

וימבלדון ופאטני קומונז
hi

पटनी हीथ
ja

パットニー・ヒース
ms

Wimbledon and Putney Commons
zh

溫布頓公地
Image source:
• Wikimedia Commons Public domain by

Adrian Robson at English Wikipedia