Bushy Park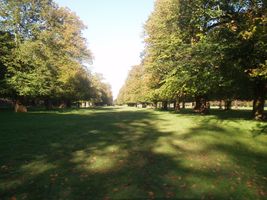 Royal Park of London
Geographical coordinates: 51.412777777 -0.338055555
Wikipedia
Wikivoyage
English

Bushy Park

The second largest of the London Royal Parks, covering an area of 450 hectares (1,099 acres). Lying north of Hampton Court Palace, the history of the park is inextricably linked to the palace, yet it has always had its own distinct rural character. There are herds of both Red Deer and Fallow Deer, they are wild but usually safe, just don't go too close or get between a hind and its calf. The D-Day linked bits are easiest found from the Teddington side. Go through SHAEF gate and there is an information board. You should be able to spot a flagpole a hundred yards into the park, this marks the spot where General Eisenhower had his office, if you have time, or children who are up for a challenge, there are bronze markers with combined British and Canadian and US flags at the corners where the main buildings of Camp Griffiss were. The partially restored early 18th century baroque water gardens are a short walk from the Hampton Hill gate. The park is subdivided by Chestnut Avenue, Christopher Wren's grand approach to Hampton Court Palace which runs from Teddington Gate to Hampton Court Gate and with the gilded Diana fountain closer to the Palace end (you may have seen it as location for the finish line of some of the cycling events at the 2012 Olympics).
Italian

Bushy Park

Il secondo parco per grandezza tra i parchi reali, con un'area di 450 ettari (1099 acri). Si trova a nord del palazzo "Hampton Court Palace" e le loro storie sono strettamente legate. Ci sono mandrie di cervi e daini in cattività e si consiglia di non avvicinarsi troppo, perché ci possono sempre essere dei cuccioli. Le parti del parco collegate al D-day sono facilmente raggiungili sul lato di Teddington. Si deve passare dal cancello SHAEF dove si trova un pannello delle informazioni. Si dovrebbe vedere un'asta portabandiera a circa centro metri che demarca il luogo dove il generale Eisenhower aveva il suo ufficio. Se si ha tempo o dei bambini con cui giocare a caccia al tesoro, ci sono dei segnali con bandiere Inglesi, Canadesi e U.S.A. agli angoli dove si trovavano gli edifici principali di Camp Griffiss. I giardini acquatici d'inizio XVIII secolo sono a una breve distanza dal cancello Hampton Hill. Il parco è suddiviso dalla strada Chestnut Avenue, che è il grande ingresso di Christopher Wren, che scorre tra I cancelli "Teddington Gate" e "Hampton Court Gate" con la fontana dorata in nome di "Diana" vicino al palazzo.
Places located in Bushy Park
The Diana Fountain in Bushy Park, in the London Borough of Richmond upon Thames, is a seventeenth-century statue ensemble and water feature in an eighteenth-century setting with a surrounding pool and mile long tree lined vistas which honors the Roman Goddess Diana. Originally created for Somerset House in the 1630s, and remodelled about 1690, the fountain has stood since 1713 in Bushy Park, and now forms a large traffic island in Chestnut Avenue.
It is the focal point of two major vistas designed by Sir Christopher Wren, including Chestnut Avenue which is the ceremonial landward approach to Hampton Court Palace. The traffic island is circular and contains a 400-foot (120 m) diameter pool surrounded by lawns, with the Diana statue on a tall base in the middle of the pool. The fountain was listed as Grade II in 1952 and in 2011 reclassified as Grade I.
fa

بوشی پارک
he

פארק בושי
ja

ブッシーパーク
ko

부시 공원
mk

Парк Буши
ms

Taman Bushy
ru

Парк Буши
tr

Bushy Parkı
zh

灌木公园
ceb

Bushy Park (parke sa Hiniusang Gingharian)