Brockwell Park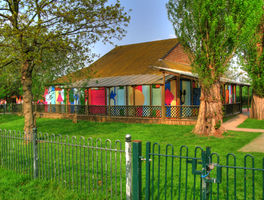 park in south London
Geographical coordinates: 51.4508 -0.1075
Wikipedia
English

Brockwell Park
Brockwell Park is a 50.8 hectare (125.53 acres) park located south of Brixton, in Herne Hill and Tulse Hill in south London. It is bordered by the roads Brixton Water Lane, Norwood Road, Tulse Hill and Dulwich Road.
The park commands views of the skyline of the city and Central London, and hosts almost 4 million annual
visits. At the top of the hill within the park stands Brockwell Hall.
Whilst competing against multiple demands from a broad range of other interests, the entirety of Brockwell Park is a Site of Importance for Nature Conservation (SINC) of Borough Importance (Grade I), with mature trees including ancient oaks, substantial lawn areas set to meadow, and a series of lakes. As well as adding to the landscape value, these support a variety of birds, and bats including Pipistrelles, with frequent visits from rarer species like Daubentons, Noctule, Leisler's and Serotine bat.The Park is listed for its heritage value on The National Heritage List for England, Parks & Gardens, Grade II. Noted for its nineteenth-century layout as a gracious public park, the clocktower, water garden, JJ Sexby-designed walled garden and other monuments, the park provides a pleasant exploration with links to its eighteenth-century agricultural past in the hedge lines, and mature oak trees. The model village houses outside the walled garden were originally donated to London County Council by Edgar Wilson in 1943.The Brockwell Lido, a Grade II listed art deco building near the top of the park, is an open-air swimming pool popular with swimmers and bathers. Its attached café/restaurant is also popular. Other amenities in Brockwell Park include tennis courts, a bowling green, a BMX track and a miniature railway.Brockwell Park is open from 7.30am to 15 minutes before sunset every day.
Source: Brockwell Park
French

Brockwell Park
Brockwell Park est un parc de 50,8 hectares (125,53 acres) situé au sud de Brixton, à Herne Hill et Tulse Hill au sud de Londres.
Le parc offre une vue sur les toits de la City et du centre de Londres et accueille près de 4 millions de visiteurs par an. Au sommet de la colline, à l'intérieur du parc se trouve Brockwell Hall.
L'intégralité du parc Brockwell est un site d'importance pour la conservation de la nature (SINC) d'importance d'arrondissement (catégorie I), avec des arbres matures, y compris des chênes centenaires, des pelouses importantes accrochées à la prairie et une série de lacs . En plus d'ajouter à la valeur du paysage, ceux-ci abritent une variété d'oiseaux et de chauves-souris, comme les pipistrelles, avec des visites fréquentes d'espèces plus rares comme les noctules ou les sérotines .
Le parc est inscrit pour sa valeur patrimoniale sur la liste du patrimoine national pour l'Angleterre, Parks & Gardens, Grade II. Remarquable pour sa disposition du XIXe siècle, avec sa tour de l'horloge, son jardin d'eau, le jardin clos conçu par JJ Sexby et d'autres monuments, le parc offre aussi une vision de son passé agricole du XVIIIe siècle dans les lignes de haie, et chênes matures. Les maisons de village modèles à l'extérieur du jardin clos ont été à l'origine données au conseil du comté de Londres par Edgar Wilson en 1943 ,.
Le Brockwell Lido, un bâtiment art déco classé Grade II près du sommet du parc, est une piscine en plein air populaire auprès des nageurs et des baigneurs . Son café / restaurant attenant est également populaire. Les autres commodités du parc Brockwell comprennent des courts de tennis, un terrain de boules, une piste de BMX et un chemin de fer miniature .
Le parc Brockwell est ouvert tous les jours de 7h30 à 15 minutes avant le coucher du soleil .
Source: Brockwell Park
Wikivoyage
English

Brockwell Park

A large hilly green park; 10-min walk from the centre of Brixton. Has the following facilities: Brockwell Lido, children's play area, paddling pool, café, flower gardens, sports facilities, toilets and several ponds. Brockwell Park also has a BMX track.
Italian

Brockwell Park

Un grande parco su una collina a dieci minuti a piedi da Brixton. Al suo interno ci sono vari servizi: la piscina all'aperto del Brockwell Lido, parco giochi per bambini, caffetteria, giardino floreale, campi sportivi tra i quali una pista per BMX, bagni e vari stagni.

Directions

Da Brixton si prende Effra Road, si svolta a sinistra su Water Lane e si cerca l'ingresso sulla destra
Places located in Brockwell Park
Brockwell Lido is a large lido in Brockwell Park, Herne Hill, London. It opened in July 1937, closed in 1990 and after a local campaign was re-opened in 1994. Two ex council employees Paddy and Casey took on the running of the Lido for the community. Lambeth council gave Paddy & Casey (ex council workers) a peppercorn lease rate from 1994–2001. Lambeth gave them a one-year extension in 2002 whilst a public consultation was held to decide on the longer term sustainable future of the Lido.
eu

Brockwell parkea
he

פארק ברוקוול
ja

ブロックウェル