London Fields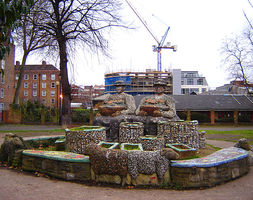 park in the London Borough of Hackney
Geographical coordinates: 51.54 -0.0608
Wikipedia
English

London Fields
London Fields is a park in Hackney, London, although the name also refers to the immediate area in Hackney surrounding it and London Fields station. It was once historically common land adjoining the Hackney Central area of the London Borough of Hackney. The park covers an area of 12.65 hectares (31.3 acres), and includes sporting and recreation facilities. The park's history is recorded as early as the 13th century, and it has been known as London Fields since the mid-16th century.
Source: London Fields
Italian

London Fields
London Fields è un'area di Londra, nel borgo londinese di Hackney.
La zona si estende per 12,5 ettari ed è situata 6,8 km a nord-est di Charing Cross.
Source: London Fields
Wikivoyage
English

London Fields

There are records of a public park at this site going back to the 16th century. Every Saturday, there is a farmers' market selling here, complemented by many others selling hand-made jewellery, gifts, childrenswear and vintage clothing.

Address

Richmond Rd, Hackney, E8
Italian

London Fields

Ci sono documenti che provano la presenza di un parco qui sin dal XVI secolo. Ogni sabato c'è un mercato dei produttori che vende oltre a verdure anche gioielleria fatta a mano, artigianato, vestiti per bambini e vestiti di seconda mano.

Address

London Fields Westside, E8 3EU
Places located in London Fields
Hackney Central is a sub-district of Hackney in the London Borough of Hackney in London, England and is four miles (6.4 km) northeast of Charing Cross.
The Hackney Central area is focused on Mare Street and the retail areas to the north of it including Narrow Way and surrounding local area around Hackney Downs railway station. As such it extends north from Regent's Canal (with Bethnal Green), takes in most of Broadway Market and London Fields, and follows each side of Mare Street till it terminates in the vicinity of Hackney Central railway station. The area also includes the central retail area which extends from Hackney Downs station in the west to the Hackney Walk Outlet Village, on Morning Lane and goes in between Wick Road (Homerton) and Cassland Road (South Hackney) till meeting Hackney Wick, to the east.
Hackney Central is the area that once would have been known as Hackney Village. This was a place that flourished from the Tudor period, when principal members of the Court had their houses in the surrounding area, and King Henry VIII of England had a palace (located near the modern Lea Bridge Road roundabout). Hackney Central remained a popular resort for Londoners until the end of the Georgian era, when this suburb of London began to be completely built up. Railways, trams and factories brought an end to Hackney's rural atmosphere during the Victorian era, and its fortunes declined.
The industries of nearby Homerton and the Lee Valley have largely disappeared, leaving the NHS and local council as the largest employers. Successive waves of immigrants, both from abroad and within the United Kingdom, make modern Hackney a culturally vibrant part of inner London, with both the benefits and challenges that this brings.Extensive post-World War II redevelopment replaced much of the housing stock, but the Georgian housing and Victorian terraces that remain have become popular again.