St. Pancras Renaissance London Hotel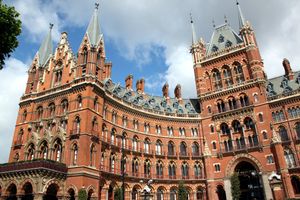 hotel in London
St Pancras Renaissance London Hotel and St Pancras Chambers
Wikimedia Commons category: 
Geographical coordinates: 51.53 -0.125278
Wikipedia
Wikivoyage
English

St. Pancras Renaissance Hotel (Midland Hotel)

This is the rebirth of the former Midland Hotel, inside the palatial listed Neo-Gothic building above St Pancras Station. Definitely outside the budget of many travellers, but for architectural aficionados this is one hotel that should be stayed in at least once in a lifetime.

Address

Euston Road, NW1 2AR
Italian

St. Pancras Renaissance Hotel (Midland Hotel)

Situato all'interno di un edificio neo-gotico sopra la stazione di St. Pancras. Decisamente fuori dalla portata di molti viaggiatori ma per gli affezionati di architettura questo è un albergo nel quale stare almeno una notte nella vita.

Address

Euston Road, London, England, NW1 2AR, United Kingdom
Places located in St. Pancras Renaissance London Hotel
St Pancras railway station (), also known as London St Pancras and officially since 2007 as St Pancras International, is a central London railway terminus on Euston Road in the London Borough of Camden. It is the terminus for Eurostar continental services from London via High Speed 1 and the Channel Tunnel to Belgium, France and the Netherlands. It provides East Midlands Railway services to Corby, Sheffield and Nottingham on the Midland Main Line, Southeastern high-speed trains to Kent via Ebbsfleet International and Ashford International, and Thameslink cross-London services to Bedford, Peterborough, Brighton and Gatwick Airport. It stands between the British Library, the Regent's Canal and King's Cross railway station, with which it shares a London Underground station, King's Cross St. Pancras.
The station was constructed by the Midland Railway (MR), which had an extensive network across the Midlands and the North of England, but no dedicated line into London. After rail traffic problems following the 1862 International Exhibition, the MR decided to build a connection from Bedford to London with their own terminus. The station was designed by William Henry Barlow and constructed with a single-span iron roof. Following the station's opening on 1 October 1868, the MR constructed the Midland Grand Hotel on the station's façade, which has been widely praised for its architecture and is now a Grade I listed building along with the rest of the station.
By the 1960s, St Pancras was surplus to requirements and services were diverted to King's Cross and Euston but there was fierce opposition to its proposed closure and demolition of the station and hotel. The station was reinvented in the late 20th century as the terminal for the Channel Tunnel Rail Link in an urban regeneration plan across East London. The complex underwent an £800 million refurbishment which was opened by Queen Elizabeth II in November 2007. A security-sealed terminal area was constructed for Eurostar services to continental Europe via High Speed 1 and the Channel Tunnel, with platforms for domestic trains to the north and south-east of England. The restored station has 15 platforms, a shopping centre, and a coach facility. St Pancras is owned by London and Continental Railways (LCR) and managed by Network Rail (High Speed), a subsidiary of Network Rail.
The Meeting Place is a 9-metre-high (30 ft), 20-tonne (20-long-ton) bronze sculpture that stands at the south end of the upper level of St Pancras railway station. Designed by the British artist Paul Day and unveiled in 2007, it is intended to evoke the romance of travel through the depiction of a couple locked in an amorous embrace.The statue, which stands in the Eurostar terminal, is reported to have cost £1 million and was installed as the centrepiece of the refurbished station. The work, commissioned by London and Continental Railways, is modelled on the sculptor and his wife.
fa

هتل سنت پنکراس رنسانس لندن
he

סנט פנקראס רנסנס לונדון הוטל
zh

倫敦聖潘克拉斯萬麗酒店