Westminster Abbey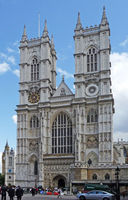 Ancient royal church in London, England
Geographical coordinates: 51.4994 -0.127367
Wikipedia
Places located in Westminster Abbey
Poets' Corner is the name traditionally given to a section of the South Transept of Westminster Abbey because of the high number of poets, playwrights, and writers buried and commemorated there.
The first poet interred in Poets' Corner was Geoffrey Chaucer. Over the centuries, a tradition has grown up of interring or memorialising people there in recognition of their contribution to British culture. In the overwhelming majority of cases, the honour is awarded to writers.
In 2009, the founders of the Royal Ballet were commemorated in a memorial floor stone and on 25 September 2010, the writer Elizabeth Gaskell was celebrated with the dedication of a panel in the memorial window. On 6 December 2011, former Poet Laureate Ted Hughes was commemorated with a floor stone. On 22 November 2013, the fiftieth anniversary of his death, writer C. S. Lewis was commemorated with a memorial floor stone. The poet Philip Larkin was commemorated with a floor stone dedicated on 2 December 2016.
The British grave of The Unknown Warrior (often known as 'The Tomb of The Unknown Warrior') holds an unidentified British soldier killed on a European battlefield during the First World War. He was buried in Westminster Abbey, London on 11 November 1920, simultaneously with a similar interment of a French unknown soldier at the Arc de Triomphe in France, making both graves the first to honour the unknown dead of the First World War. It is the first example of a tomb of the Unknown Soldier.
The Henry VII Lady Chapel, now more often known just as the Henry VII Chapel, is a large Lady chapel at the far eastern end of Westminster Abbey, paid for by the will of King Henry VII. It is separated from the rest of the abbey by brass gates and a flight of stairs.The structure of the chapel is a three-aisled nave composed of four bays. The apse of the chapel contains the altar, and behind that, the tombs of Henry VII and his wife as well as of James I. There are five apsidal chapels.The chapel is noted for its pendant fan vault ceiling.
The chapel is built in a very late Perpendicular Gothic style, the magnificence of which caused John Leland to call it the orbis miraculum (the wonder of the world). The tombs of several monarchs including Henry VII, Edward VI, Mary I, Elizabeth I, James I, Charles II and Mary, Queen of Scots are found in the chapel.The chapel has also been the mother church of the Order of the Bath since 1725, and the banners of members hang above the stalls.
af

Westminster-abdy
ar

دير وستمنستر
az

Vestminster abbatlığı
ba

Вестминстер аббатлығы
be

Вэстмінстэрскае абацтва
bg

Уестминстърско абатство
bn

ওয়েস্টমিনস্টার অ্যাবে
br

abati Westminster
bs

Vestminsterska opatija
ca

abadia de Westminster
ce

Вестминстеран аббаталла
cs

Westminsterské opatství
cy

Abaty Westminster
el

Αββαείο του Ουέστμινστερ
eo

Abatejo Westminster
es

Abadía de Westminster
eu

Westminster abadia
fa

کلیسای وستمینستر
fr

abbaye de Westminster
fy

Abdij fan Westminster
ga

Abtheach Westminster
gd

Abaid Westminster
gl

Abadía de Westminster
he

מנזר וסטמינסטר
hi

वेस्टमिंस्टर ऐबी
hr

Westminsterska opatija
hu

Westminsteri apátság
hy

Վեստմինստերյան աբբայություն
ia

Abbatia de Westminster
it

abbazia di Westminster
ja

ウェストミンスター寺院
ka

უესტმინსტერის სააბატო
ko

웨스트민스터 사원
la

Abbatia Westmonasteriensis
lb

Westminster Abtei
lt

Vestminsterio vienuolynas
lv

Vestminsteras abatija
mk

Вестминстерска катедрала
mr

वेस्टमिन्स्टर अॅबी
my

ဝက်စမင်စတာ၊ အက်ဗေး
pa

ਵੈਸਟਮਿੰਸਟਰ ਐਬੇ
pl

Opactwo Westminsterskie
pt

Abadia de Westminster
ro

Catedrala Westminster
ru

Вестминстерское аббатство
sh

Westminsterska opatija
sk

Westminsterské opátstvo
sl

Westminstrska opatija
sr

Вестминстерска опатија
ta

வெஸ்ட்மின்ஸ்டர் மடம்
th

เวสต์มินสเตอร์แอบบีย์
tt

Вестминстер аббатлыгы
uk

Вестмінстерське абатство
ur

ویسٹمنسٹر ایبی
vi

Tu viện Westminster
yi

וועסטמינסטער אבי
zh

西敏寺
arz

كنيسة ويستمينيستار
ast

Abadía de Westminster
new

वेस्तमिनिस्तर एब्बे
nrm

Abbaie de Vouêtmoûtier
pnb

ویسٹ منسٹر ایبی
wuu

威斯敏斯特教堂
yue

西敏寺
pt-br

Abadia de Westminster
zh-tw

西敏寺
zh-hans

威斯敏斯特教堂
zh-hant

西敏寺
be-tarask

Ўэстмінстэрскае абацтва