Serpentine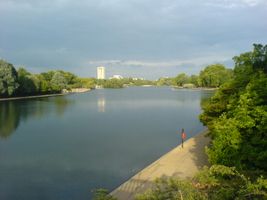 lake in Hyde Park, London
Geographical coordinates: 51.505277777 -0.169444444
Wikipedia
Wikivoyage
English

The Serpentine

The Serpentine is a long, thin artificial lake within Hyde Park which contains a range of waterfowl and fish. It was first made by damming the River Westbourne but it is now fed by three boreholes. The western end of the lake is actually in Kensington Gardens, in which it is called The Long Water. Swimming and boating are popular activities on the Serpentine; see 'Do' section.
Italian

The Serpentine

Il Serpentine è un piccolo lago artificiale all'interno del parco di Hyde Park che contiene varie specie di anatre, galline d'acqua e pesci. Originariamente fu creato con una diga sul fiume Westbourne ma oggi è alimentato da tre pozzi. La parte occidentale del lago si trova in realtà nel parco di Kensington Gardens, dove viene chiamato The Long Water.
Places located in Serpentine
ar

السربينتين
de

The Serpentine
es

Lago Serpentine
eu

Serpentine lakua
fa

سرپنتاین
ga

The Serpentine
he

אגם הסרפנטיין
it

Serpentine Lake
ja

サーペンタイン・レイク
ko

서펜타인
uk

Серпентин
zh

九曲湖
Image source:
• Wikimedia Commons CC BY-SA 2.5 by

The original uploader was Jamie101 at English Wikipedia.