Golden Gate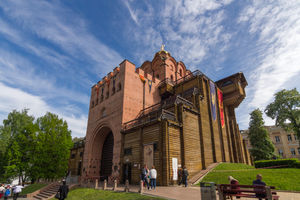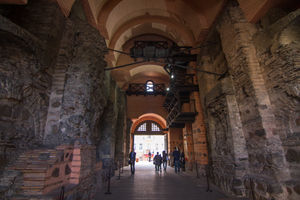 museum in Kyiv, Ukraine
Geographical coordinates: 50.44833333 30.51305556
Wikipedia
Wikivoyage
English

Golden Gate of Kiev (Золоті ворота, Zoloti Vorota)

This is a 1982 reconstruction of the Golden Gate of Kiev, described by Mussorgski in "Pictures of an Exhibition". It is quite a nice spot to visit and learn about the town walls. Some nice buildings are also there and you can inspect the Porsche Cayennes, Lexuses, Audis, BMWs and Mercedes of Ukraine's nouveau riche who are very much into conspicuous consumption.
Russian

Золотые ворота

Были построены киевским князем Ярославом Мудрым в XI веке как укреплённый парадный въезд в Киев, в то время Киев по красоте и богатству активно соперничал с Константинополем и Золотые Ворота Киева стали своеобразным аналогом золотых ворот Константинополя. Изображение Золотых Ворот Киева сохранилось на печати Анны — королевы Франции и дочери Ярослава Мудрого. Также одна из национальных польских святынь — ритуальный меч Щербец был ущерблён королём Болеславом о киевские Золотые Ворота. Во время осады Киева ханом Батыем монголам так и не удалось разрушить Золотые Ворота и стену вокруг них, поэтому пороки (стенобитные катапульты) были перемещены к Лядским воротам что находятся в районе современной площади Независимости и там уже достигли успеха.
ar

البوابة الذهبية
be

Залатыя вароты
bg

Златни врата
cs

Zlatá brána (Kyjev)
de

Goldenes Tor von Kiew
es

Puerta dorada de Kiev
fr

Porte dorée de Kiev
he

שער הזהב של קייב
hr

Zlatna vrata u Kijevu
hy

Կիևի ոսկե դարպասներ
id

Gerbang Emas, Kiev
it

Porta d'Oro (Kiev)
ja

黄金の門
ka

ოქროს კარიბჭე
ko

황금문
lt

Aukso vartai
mk

Златна порта
nb

Den gylne porten
pl

Złota Brama w Kijowie
ru

Золотые ворота
sr

Златна капија у Кијеву
uk

Золоті ворота
zh

黃金之門
zh-hk

黃金之門
zh-hans

黄金之门
zh-hant

黃金之門
be-tarask

Залатая брама