BFI Southbank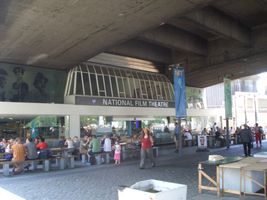 cinema in the UK
Geographical coordinates: 51.5072 -0.1157
Wikipedia
English

BFI Southbank
BFI Southbank (from 1951 to 2007 known as the National Film Theatre) is the leading repertory cinema in the UK, specialising in seasons of classic, independent and non-English language films. It is operated by the British Film Institute.
Source: BFI Southbank
German

BFI Southbank
Das BFI Southbank ist ein vom British Film Institute (BFI) betriebenes Kino, das an der Londoner South Bank beheimatet ist. Die 1952 als National Film Theatre (NFT) gegründete Einrichtung gilt als eines der bedeutendsten Programmkinos im Vereinigten Königreich. Es zeigt hauptsächlich Retrospektiven des britischen und internationalen Films, ist aber auch Spielstätte des London Film Festival und zahlreicher weiterer Filmfestivals.
Source: BFI Southbank
cs

BFI Southbank
BFI Southbank (v letech 1951 až 1957 National Film Theatre) je repertoárové kino v Londýně. Specializuje se na klasické, nezávislé a neanglicky mluvené filmy. Provozuje jej Britský filmový institut. National Film Theatre bylo původně otevřeno na dočasném místě (Telekinema) na Britském festivalu v roce 1951. Na současné místo, kde nahradilo restauraci Thameside, bylo přesunuto v roce 1957. Později bylo rozšířeno o další prostory. Nachází se na jižním konci Waterloo Bridge a je součástí kulturního komplexu na Jižním nábřeží.
Source: BFI Southbank
Places located in BFI Southbank
The Museum of the Moving Image (MOMI) was a museum of the history of cinema technology and media sited below Waterloo Bridge in London. It was opened on 15 September 1988 by Prince Charles. The museum formed part of the cultural complex on the South Bank of the River Thames. MOMI was mainly funded by private subscription and operated by the British Film Institute. MOMI was closed temporarily in 1999, with the closure becoming permanent soon after.
Address: Belvedere Road, Southbank, London, SE1 8XT, England
he

BFI סאות'בנק
ja

BFIサウスバンク