London Paddington station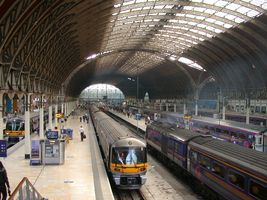 National Rail and Crossrail station in City of Westminster, London
Geographical coordinates: 51.515556 -0.175833
Wikipedia
Wikivoyage
English

Paddington station (PAD, )

The London terminal for trains from the following cities in the southwest of the country: Swansea, Cardiff, Newport, Swindon, Plymouth, Exeter, Bristol, Bath and Penzance, and also for trains from Worcester, Cheltenham, Gloucester, Heathrow Airport, Reading and Oxford. As of August 2019, Elizabeth line (Crossrail) services from Shenfield and Abbey Wood are expected to commence in March 2021.
English

London Paddington

Serves South West England and Wales including Slough, Maidenhead, Reading, Oxford, Bath, Bristol, Taunton, Exeter, Plymouth and Cardiff and Swansea. Also the Central London terminus of the Heathrow Airport Express, and suburban rail services from Reading, Slough and parts of West London West London.
ar

بادينغتون
ca

Estació de London Paddington
cs

Paddington
cy

Gorsaf reilffordd Paddington Llundain
da

Paddington Station
de

Bahnhof Paddington
es

Estación de Paddington
eu

Paddington geltokia
fa

ایستگاه پادینگتون
fi

Paddingtonin rautatieasema
fr

gare de Londres Paddington
he

תחנת הרכבת פדינגטון
hu

London Paddington pályaudvar
id

Stasiun London Paddington
it

stazione di Londra Paddington
ja

パディントン駅
ka

პადინგტონი
ko

런던 패딩턴 역
lb

Gare Paddington
nb

Paddington stasjon
nl

Station London Paddington
nn

Paddington stasjon
pl

Paddington station
pt

Estação Paddington
ro

gara Londra Paddington
ru

Паддингтон
sk

Paddington
sv

Paddington Station
tr

Paddington İstasyonu
uk

Паддінгтон
yi

לאנדאן פאדינגטאן סטאנציע
zh

倫敦帕丁頓車站
arz

محطة بادينجتون
gan

八頂段站
hak

Paddington Chhâ-chhàm
lmo

Stazion de Londra Paddington
yue

柏靈頓站
zh-cn

伦敦帕丁顿车站
zh-hk

倫敦帕丁頓車站
zh-mo

倫敦帕丁頓車站
zh-my

伦敦帕丁顿车站
zh-sg

伦敦帕丁顿车站
zh-tw

倫敦帕丁頓車站
zh-hans

伦敦帕丁顿车站
zh-hant

倫敦帕丁頓車站
gan-hans

八顶段站
gan-hant

八頂段站