The Dorchester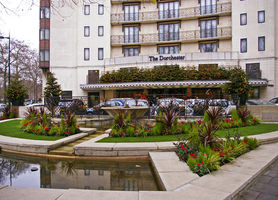 hotel on Park Lane and Deanery Street, London
Geographical coordinates: 51.507222 -0.1525
Wikipedia
Wikivoyage
English

Dorchester Hotel

One of the most prestigious five-star luxury hotels anywhere in the world owned by the Brunei royal family. If you have to ask the rates, you probably can not afford to stay here.
Places located in The Dorchester
Alain Ducasse at The Dorchester is a restaurant located in The Dorchester, a hotel on Park Lane, London. It is one of over 25 restaurants operated by French-born Monégasque chef Alain Ducasse (Ducasse Paris): the Executive Chef is Jean-Philippe Blondet, who replaced Jocelyn Herland in January 2016. Since 2010, it has been one of five UK-sited restaurants to hold three Michelin stars. It opened in November 2007.
ar

فندق دورشستر
da

Dorchester Hotel
fa

هتل دورچستر
fi

Dorchester Hotel
fr

Dorchester Hotel
he

מלון דורצ'סטר
ja

ザ・ドーチェスター
zh

多徹斯特酒店
arz

فندق دورشستر