Odeon Leicester Square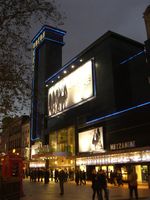 cinema which occupies the centre of the eastern side of Leicester Square, London
Geographical coordinates: 51.5106 -0.129167
Wikipedia
Wikivoyage
English

Odeon Leicester Square

Includes the Odeon Mezzanine and Odeon West End. This particular Odeon is famous for its red-carpet film premieres.

Address

Leicester Sq, WC2

Price

M-F until 5PM £5-6.50; M-F after 5PM £10; Sa Su £11
Places located in Odeon Leicester Square
The Alhambra Theatre of Variety was a popular music hall located at Leicester Square, in the West End of London, England. It was built originally as the Royal Panopticon of Science and Arts, an institution for 'scientific exhibitions and for promoting discoveries in arts and manufactures' opening on 18 March 1854. This venture went bankrupt inside two years and the was sold to E.T. Smith. It was renamed as the Alhambra Palace and in 1858 a circus ring was installed. Though the circus was successful, Smith converted the building to a dance hall and reopened as the Alhambra Palace Music Hall in December 1860.
Address: 26 Leicester Square, London, WC2H 7LQ
ar

أوديون ليستر سكوير
fa

اودئون میدان لستر
hy

Լեյսիստեր հրապարակի Օդեոն կինոթատրոն
ja

オデオン・レスター・スクエア
ur

اوڈین لیسٹر اسکوائر
zh

Odeon萊斯特廣場戲院
Photos:
Image from
Wikimedia Commons
under Public domain by
The original uploader was Danjamz at English Wikipedia.