Chinatown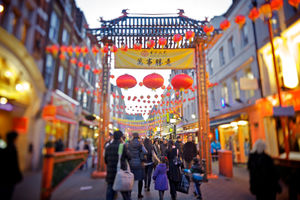 neighborhood in the City of Westminster, London
Geographical coordinates: 51.511111111 -0.131388888
Wikipedia
Wikivoyage
English

Chinatown

The main sights to see in London's Chinatown are the expressions of Chinese culture and Eastern ambience in Chinatown, and for a good Chinese meal. There are few souvenir shops for tourists and no museums or temples.
Italian

Chinatown

Qui si osserva la cultura cinese radicata all'interno della metropoli e ci si può fermare a mangiare nei numerosi buoni ristoranti. Pochi negozi di souvenir e nessun museo.
French

Chinatown

Chinatown se situe au sud de Soho.
Places located in Chinatown
bn

চায়নাটাউন, লন্ডন
ca

Chinatown (Westminster)
cs

Čínská čtvrť
eo

Ĉina Kvartalo
eu

Auzo txinatarra
ga

Ceantar Síneach
hy

Չայնա-թաուն (Լոնդոն)
ja

中華街
ms

Pekan Cina
ru

Чайна-таун
uk

Чайна-таун
ur

چائنا ٹاؤن، لندن
zh

唐人街
zh-hk

倫敦唐人街
zh-hans

唐人街
zh-hant

唐人街
Photos:
Image from
Wikimedia Commons
under CC BY-SA 2.0 by
Aurelien Guichard from London, United Kingdom