Royal Opera House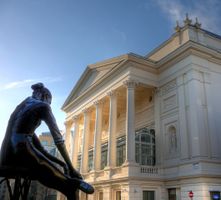 opera house and major performing arts venue in Covent Garden, central London (3rd theatre on the site, opened 1858)
Royal Opera House Covent Garden
Wikimedia Commons category: 
Geographical coordinates: 51.513055555 -0.1225
Wikipedia
Wikivoyage
English

Royal Opera House

One of the world's great opera and ballet venues. Peak time tickets are like gold dust and it is very unlikely that a casual visitor will be able to obtain one. However, at least 65 tickets per performance are held off for on-the-day in person sales from 10AM, and tickets are sometimes available for off peak (especially matinee) performances and can be surprisingly affordable. Check the website or at London ticket agencies.

Address

Covent Garden, WC2E 9DD
Places located in Royal Opera House
Bow Street is a thoroughfare in Covent Garden, Westminster, London. It connects Long Acre, Russell Street and Wellington Street, and is part of a route from St Giles to Waterloo Bridge.
The street was developed in 1633 by Francis Russell, 4th Earl of Bedford for residential purposes. A number of notable people lived here in the 17th and 18th centuries, including Oliver Cromwell and Robert Harley, 1st Earl of Oxford. In the 18th century, the street declined as a place of residence following the establishment of the Royal Opera House and the nearby Covent Garden Theatre which led to a reputation for prostitution during the late-17th and 18th centuries.
Bow Street has a strong connection with the law; the Bow Street Runners, an early voluntary police force, was established here by Henry Fielding in 1750, and the Metropolitan Police Service operated a station house from 1832, which led to the construction of the Bow Street Magistrates' Court.
Address: 7 Bow Street, London, WC2E 9DD, England
ar

دار الأوبرا الملكية
az

Kral Opera Teatrı
be

Каралеўскі тэатр Ковент-Гардэн
bg

Кралска опера
cy

Tŷ Opera Brenhinol
eo

Reĝa Operejo
fa

خانه اپرای سلطنتی لندن
he

בית האופרה המלכותית, קובנט גארדן
hy

Կովենտ գարդեն արքունական թատրոն
ja

ロイヤル・オペラ・ハウス
ka

სამეფო ოპერის თეატრი
ko

로열 오페라 하우스
ml

റോയൽ ഓപ്പറ ഹൗസ്, മുംബൈ
nl

Royal Opera House Covent Garden
pl

Covent Garden Theatre
ru

Ковент-Гарден
uk

Королівський театр Ковент-Гарден
uz

Kovent-garden
vi

Nhà hát opera Hoàng gia
zh

皇家歌劇院
arz

دار الاوبرا الملكيه
ckb

کۆشکی ئۆپێرای شاهانەیی
wuu

皇家歌剧院
zh-cn

皇家歌剧院
zh-hans

皇家歌剧院