Charing Cross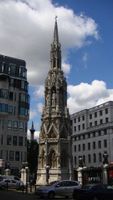 area of London, England
Geographical coordinates: 51.5073 -0.12755
Wikipedia
Wikivoyage
English

Charing Cross and Charing Cross Station

Old train station with an enormous office and shopping complex in glass and pale stone. A lavish hotel is also on the site. The name comes from the Queen Eleanor (13th century) gothic pillar outside the station, which is acutally a Victorian-era replica. Charing Cross Road is famous for its vintage book shops; one stand-out is Foyle's.
Italian

Charing Cross e la Stazione

La stazione di Charing Cross è l'antica stazione dei treni tutt'oggi utilizzata anche per la metropolitana, con un grande complesso commerciale in vetro e pietra sbiancata e si trova anche un sontuoso albergo. Il nome arriva dalla colonna gotica dell'epoca della Regina Eleonora (XIII secolo) appena fuori dalla stazione. Quello che vedioamo oggi è in realtà una copia di epoca vittoriana. La via Charing Cross Road è famosa per i suoi negozi di libri, il più grande è Foyle's mentre altri possono essere trovati nellla strada laterale Cecil Court.
ar

تشارينغ كروس
be

Чарынг-Крос
fa

چارینگ کراس
he

צ'רינג קרוס
ja

チャリング・クロス
ko

채링크로스
ru

Чаринг-Кросс
uk

Чарінг-Кросс
ur

چیرنگ کراس
zh

查令十字
azb

چرینق کراس
zh-cn

查灵十字
zh-hk

查令十字
zh-tw

查令十字
zh-hans

查灵十字
zh-hant

查令十字