Barbican Conservatory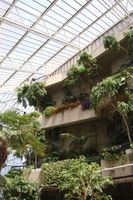 பார்பிகன் களஞ்சியம் லண்டனின் இரண்டாவது மிகப்பெரிய களஞ்சியம்,பார்பிகன்சென்டரில் அமைந்துள்ளது.இது2000-திற்கும் அதிகமான மரம்,நன்னீர் ஆமை,கோய்கார்ப்மீன் வகை மற்றும் செடிகளின் இருப்பிடமாகும்.இது 2100கனசதுர அடி அளவு உடையது இது ப்ளை அவரின் மேல் அமைந்துள்ளது
Geographical coordinates: 51.5202 -0.095
Wikipedia
English

Barbican Conservatory
The Barbican Conservatory is the second largest conservatory in London, located at the Barbican Centre. It houses more than 2000 species of plants and trees, as well as terrapins and koi carp. The conservatory covers 23,000 square feet (2,100 m2), and is located on top of the theatre's fly tower.Admission to the conservatory is free but public opening times are very limited; currently only afternoons on Sundays and some Bank holiday Mondays. Opening days and times are given on the Barbican website. The conservatory can be hired for meetings and receptions.
Source: Barbican Conservatory
Wikivoyage
English

Barbican Conservatory

The second biggest greenhouse in London, containing over 2,000 species of tropical plants as well as birds and fish.

Address

Silk St, EC2Y 8DS
Places located in Barbican Conservatory
The Barbican Muse is a sculpture of a woman, holding tragedy and comedy masks, by Matthew Spender, and was installed on a wall near the Silk Street entrance to the Barbican Centre in the City of London, England, in 1994.The 20 feet (6.1 m) long illuminated sculpture called Muse was cast in fibreglass and then gilded. It was commissioned, in 1993, by architect Theo Crosby to 'float, glow and point the way' to visitors arriving at the centre on the walkway from Moorgate Station.As part of the 1993–1994 refurbishment, Crosby also commissioned nine gilded fibreglass muses by British sculptor Sir Bernard Sindall, but these were removed in April 1997, and sold to Dick Enthoven in 1998.