St Margaret Pattens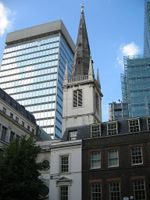 church in City of London, UK
Geographical coordinates: 51.510763888 -0.082983333
Wikipedia
English

St Margaret Pattens
St Margaret Pattens is a Church of England church in the City of London, located on Eastcheap near the Monument. The dedication is to St. Margaret of Antioch.
Source: St Margaret Pattens
Wikivoyage
English

St Margaret Pattens

Address

Rood Ln and Eastcheap EC3
Photos:
Image from
Wikimedia Commons
under Public domain by
No machine-readable author provided. Wjfox2005 assumed (based on copyright claims).