Finnish Railway Museum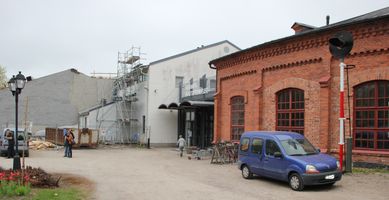 museum in Hyvinkää, Finland
Geographical coordinates: 60.62638889 24.85055556
Wikipedia
Wikivoyage
English

Finnish Railway Museum

Some thirty locomotives (ten steam driven, the oldest one from 1868) and many cars, including three cars of the Finnish train of the Russian emperor and the car of the president of Finland. Also exhibitions with other objects and photographs. There is a 1:8 railway on the museum premises. Founded already in 1898, moved here 1973–1974. The museum is in a historically significant place – the station and train yard for Hanko–Hyvinkää railway from early 1870s. You can get a special cachet on your letters and postcards if you mail them through the mailbox on the museum grounds.
German

Suomen Rautatiemuseo

Das Museum zeichnet die Vergangenheit und Gegenwart der finnischen Eisenbahnen auf.
Address: Hyvinkäänkatu 9, 05800 Hyvinkää
Address: Hyvinkäänkatu 9
de

Finnisches Eisenbahnmuseum
et

Soome Raudteemuuseum
fi

Suomen Rautatiemuseo
ja

フィンランド鉄道博物館
ko

핀란드 철도박물관
ru

Финский железнодорожный музей
sv

Finlands Järnvägsmuseum
tr

Fin Demiryolu Müzesi
zh

芬蘭鐵路博物館
zh-hans

芬兰铁路博物馆
zh-hant

芬蘭鐵路博物館