Nederlands Spoorwegmuseum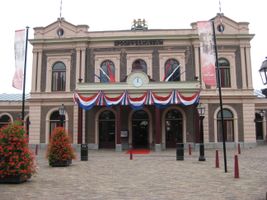 national railway museum of the Netherlands, in Utrecht
Railway museum
National museum
Geographical coordinates: 52.087222 5.131389
Wikipedia
Wikivoyage
English

Nederlands Spoorwegmuseum

The Dutch Railway Museum. It reopened in June 2005 after a intensive renovation. It is possible to go directly to the Spoorwegmuseum from centraal station with a special train.
Italian

Museo delle Ferrovie Olandesi (Nederlands Spoorwegmuseum)

Il museo è stato inaugurato nel 1954 e occupa gli spazi della Maliebaanstation, una stazione del 1874 non più in funzione.
Places located in Nederlands Spoorwegmuseum
Address: Johan van Oldenbarneveltlaan 6
hu

Spoorwegmuseum
nl

Het Spoorwegmuseum
zh

荷兰铁路博物馆
zh-cn

荷兰铁路博物馆
zh-hant

荷蘭鐵路博物館