New South Wales Rail Transport Museum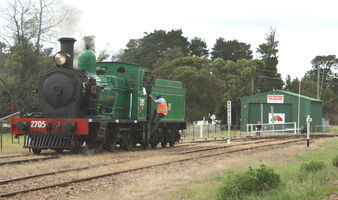 railway museum in New South Wales, Australia
Geographical coordinates: -34.2064 150.57
Wikipedia
English

NSW Rail Museum
The NSW Rail Museum is the main railway museum in New South Wales, Australia. A division of Transport Heritage NSW, it was previously known as the New South Wales Rail Transport Museum (NSWRTM) and Trainworks.Transport Heritage NSW has divisions located in Thirlmere, New South Wales, where the NSW Rail Museum is dedicated to displaying locomotives, passenger cars, and freight rolling stock formerly operated by the New South Wales Government Railways (NSWGR) and various private operators. The Blue Mountains division is located at the Valley Heights Locomotive Depot Heritage Museum. The collection features steam, diesel and electric locomotives and other rolling stock. A large proportion of the collection is owned by Transport for New South Wales.
At Thirlmere, the NSW Rail Museum operates steam heritage trains on the Picton – Mittagong railway line between Picton, Thirlmere and Buxton. It also hosts the Thirlmere Festival of Steam in March each year.
In addition to this, Transport Heritage NSW regularly operates mainline tours under the NSW Rail Museum branding. These can consist of day or extended tours, usually over a weekend.
At Valley Heights, the co-located Valley Heights Steam Tramway runs an 1890s steam tram and trailer, and a Stephenson loco 0-6-0 CPC2 (built in 1899) with open ended carriage over track in the former roundhouse and associated access tracks.
Source: NSW Rail Museum
Places located in New South Wales Rail Transport Museum
Rail Paybus FP1 is a heritage-listed former railbus and now museum exhibit at NSW Rail Transport Museum Barbour Road, in the outer south-western Sydney town of Thirlmere in the Wollondilly Shire local government area of New South Wales, Australia. It was designed by the New South Wales Government Railways Road Motor Section and built in 1937 by Waddingtons Ltd (body), Ford Motor Co. (chassis and mechanical components). It is also known as Rail Bus and Rail Pay Bus FP1. The property is owned by Rail Corporation New South Wales, an agency of the Government of New South Wales. It was added to the New South Wales State Heritage Register on 26 September 2003.
Thirlmere is a former railway station which was located on the Picton – Mittagong loop railway line. It served Thirlmere, a small town in the Macarthur Region of New South Wales, Australia.
Address: 10 Barbour Road, Thirlmere, New South Wales, Australia
ja

ニューサウスウェールズ鉄道博物館
zh

新南威尔士州铁路博物馆
zh-hant

新南威爾士州鐵路博物館