Museo Archeologico Nazionale, Venice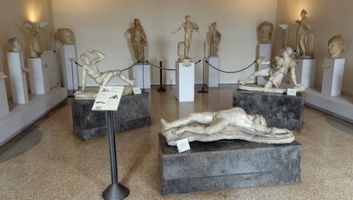 museum in Italy
Museo Archeologico Nazionale (Venice)
Wikimedia Commons category: 
Geographical coordinates: 45.4336 12.3393
Wikipedia
English

Venice National Archaeological Museum
The National Archaeological Museum (Italian: Museo Archeologico Nazionale di Venezia) is a museum located right on Piazza San Marco in Venice.
The National Archaeological Museum was established in 1523 by Cardinal Domenico Grimani. This Museum has a great collection of Greek and Roman sculptures, ceramics, coins and stones dating back as far as the 1st Century B.C. Some of the archeological collections from the Correr Museum are also housed here.
Visitors can also view the elegant vases, impeccable ivories, portraits of long-ago Roman emperors, marbles and busts, gems and jewelry in this museum. Numerous treasured relics of Assyro-Babylonian, Greek, Tuscan, Roman and Egyptian origins will enlighten the visitors seeking pieces of Neolithic Age. Visitors will relish other highlights such as the Armenian-Venetian collection, legal texts dating back to the 17th Century, and bilingual dictionaries.
French

Musée archéologique national de Venise
Le musée archéologique de Venise (Museo archeologico Nazionale di Venezia, en italien) est un musée archéologique situé à Venise. Logé dans le bâtiment des Procuraties nouvelles, il est consacré à la présentation d'œuvres issues de fouilles archéologiques, réunies en grande partie par le cardinal Domenico Grimani (1461-1523).
Italian

Museo archeologico nazionale di Venezia
Il Museo archeologico nazionale di Venezia è un museo statale dedicato all'archeologia, situato in piazza San Marco, presso le Procuratie Nuove. Ospita una raccolta d'antichità, frutto del collezionismo veneziano, con esempi di sculture greche del V-IV secolo a.C., i Galati Grimani, ritratti di epoca romana, rilievi, iscrizioni, ceramiche, avori, gemme e una raccolta numismatica.
Nel 2013, col circuito museale dei musei di piazza San Marco, è stato il diciannovesimo sito statale italiano più visitato, con 265.034 visitatori. Nel 2015 ha fatto meglio con 298.380 visitatori, migliorando ulteriormente nel 2016 con 344.904 visitatori, risultando il diciottesimo sito statale per numero di visitatori.
Dal dicembre 2014 il Ministero per i beni e le attività culturali lo gestisce tramite il Polo museale del Veneto, nel dicembre 2019 divenuto Direzione regionale Musei.
Address: Piazza San Marco - Sestriere San Marco, 17
Address: piazzetta S. Marco, 17/52 - Venezia
fr

musée archéologique de Venise
id

Museum Arkeologi Nasional Venesia
it

Museo archeologico nazionale di Venezia
ja

ヴェネツィア国立考古博物館