Archeological crypt of the île de la Cité
Crypte archéologique du parvis Notre-Dame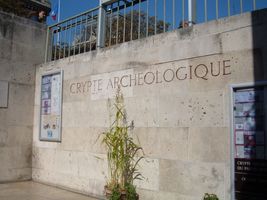 museum of the city of Paris
Crypte archéologique de l'île de la Cité
Wikimedia Commons category: 
Geographical coordinates: 48.853611111 2.3475
Wikipedia
Places located in Archeological crypt of the île de la Cité
Parvis Notre-Dame – Place Jean-Paul-II is the official name of the square consisting of the parvise of Notre-Dame de Paris on the Île de la Cité, France. It was known simply as the place du Parvis-Notre-Dame until 2006 when it was renamed in honour of Pope John Paul II who died in 2005. The change generated controversy.The parvis was originally much smaller and its current shape dates back to the extensive urban renewal plans of Baron Haussmann during the Second French Empire.The square is also the location of France's Kilometre zero which is indicated by a stone of the parvis.
cs

Crypte archéologique
de

Archäologische Gruft von île de la Cité
el

Αρχαιολογική Κρύπτη της Ιλ ντε λα Σιτέ
es

Cripta arqueológica de la île de la Cité
eu

Notre Dameko atrioko kripta arkeologikoa
fi

Crypte archéologique
fr

crypte archéologique de l'île de la Cité
hy

Նոտր Դամի գավիթ
it

Crypte archéologique
nl

archeologische crypte van de Notre-Dame
ru

Крипта паперти Нотр-Дам