St. Nicholas Military Cathedral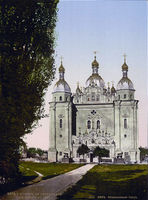 church building in Kiev, Ukraine
St. Nicholas Military Cathedral, Kiev
Wikimedia Commons category: 
Geographical coordinates: 50.4414 30.5519
Wikipedia
English

St. Nicholas Military Cathedral
St. Nicholas Military Cathedral (Ukrainian: Військовий Микільський собор), popularly known as The Great Nicholas (Ukrainian: Великий Микола) was one of the military cathedrals of the former Russian Empire. It was sited in the Kiev Fortress overlooking the Dnieper River.
As a cathedral it was adopted after establishing the Russian Kiev Fortress in the 19th century. This pentacupolar Ukrainian Baroque building was originally designed by Osip Startsev at the bidding of Hetman Ivan Mazepa to serve as the main church of St. Nicholas's Hermitage traditionally associated with Askold's Grave. The church was consecrated in 1696. It was famed for its dazzling gilded icon screen commissioned by Mazepa. A free-standing Rastrelliesque bell tower was completed in the mid-18th century.
The Russian Imperial Army became the church's patron in 1831. A set of cannons near the building proclaimed its military associations. In 1934, the Soviets blew up the cathedral, replacing it with a Pioneers Palace.Struggle for a reconstruction of a temple is growing. The president of Ukraine Viktor Yushchenko supported idea of restoration of a temple.Now Divine services are carried out at open-air near to a place where there was a temple earlier. A website of parishioners - https://web.archive.org/web/20130925162354/http://mykilsky.org.ua/
Source: St. Nicholas Military Cathedral
Russian

Никольский военный собор (Киев)
Нико́льский вое́нный собо́р («Вели́кий Мико́ла»), в Киеве — православный храм Пустынно-Никольского монастыря, построенный в 1696 году под руководством архитектора Осипа Старцева по инициативе и на средства гетмана И. Мазепы-Колединского в стиле украинского барокко.
В советское время храм был уничтожен по указанию правительства УССР и КП(б)У.
Source: Никольский военный собор (Киев)
Ukrainian

Військовий Микільський собор
Військо́вий Микі́льський собо́р («Вели́кий Мико́ла») — православний храм Київського Пустинно-Микільського монастиря, збудований архітектором Й. Д. Старцевим на кошти гетьмана Івана Мазепи протягом 1690–1696 р.р. поруч з Миколаївським монастирем. Знищений більшовиками у 1934 році.
Source: Військовий Микільський собор
mk

Воена катедрала Свети Никола
nl

Nicolaaskathedraal
ru

Никольский военный собор
uk

Військовий Микільський собор