Magere Brug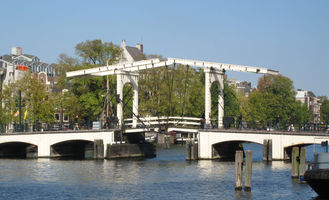 bridge in Amsterdam
Geographical coordinates: 52.363586 4.902357
Wikipedia
Wikivoyage
English

Magere Brug

The Magere Brug, literally "Skinny Bridge", is a bridge that spans the Amstel River and connects the Kerkstraat with the Nieuwe Kerkstraat. It an iconic bridge that consists of nine arches and a drawbridge that is still operated by hand. The current bridge is made of white-painted wood, but it has been rebuilt several times and historically it has also been in concrete. The first bridge here was built in 1691, but the current one dates from 1934. It is one of the most photographed bridges of Amsterdam, especially at night because of the 1200 tiny lights that make it look like a picture-perfect postcard.
Italian

Ponte Magere (Magere Brug)

il più famoso ponte basculante di Amsterdam, in legno bianco, sull'Amstel, risalente al 1670, connette le rive del fiume su Kerkstraat, fra il canale Keizersgracht ed il Prinsengracht ed è riservato a pedoni e biciclette. Una leggenda racconta che il nome del ponte si deve alle due sorelle Mager, alle quali la costruzione di quel ponte sarebbe servita per raggiungere l'altra sponda del canale, dove dovevano trasportarvi del bestiame. Di notte è illuminato da 1200 lampadine. La struttura attuale fu costruita nel 1934 su progetto di Piet Kramer.
Address: Amstel/brugnr. 242
az

Maqere-Burq
cv

Магере-Брюг
hy

Մագերե Բրյուգ
ja

マヘレの跳ね橋
ko

마헤러 브뤼흐
ru

Магере-Брюг
uk

Магере Брюг
zh

瘦橋